B&W CCM816 In-Ceiling speaker features a blue Kevlar driver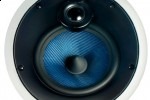 Bowers & Wilkins has released a much compact CCM816 speaker to complement its existing CCM 800 series In-Ceiling lineup with a blue-finish driver. This is not the first B&W speaker to employ a blue Kevlar driver, similar unit can be seen from their CT-700 home theater series lineup. Part of the reason was to eliminate light reflections on projector screen, or a glossy finished flat screen TV. The color in any way, should not affect the sound quality but I will go on record that I prefer the much-traditional yellow finished Kelvar cone with the grill on. The yellow Kevlar, for me, is part of the signature from B&W.
Back on the In-wall unit, the CCM816 is a two-way design with a single one-inch tube-loaded aluminum tweeter, angled at 28 degree, to drive the top-end frequency range at optimum listening position. Midrange and low frequency are taken care of by a 6.5-inch woven Kevlar driver. Yes, besides the color, it's the smaller version of the same Kelvar driver you can find from the legendary B&W's 800 Series speakers, or from the CCM818 home theater series speakers.
The new Bowers & Wilkins CCM816 will be available February 2009 at a manufacturer's suggested price of $600 each.