Bungie reveals Destiny: A shared-world shooter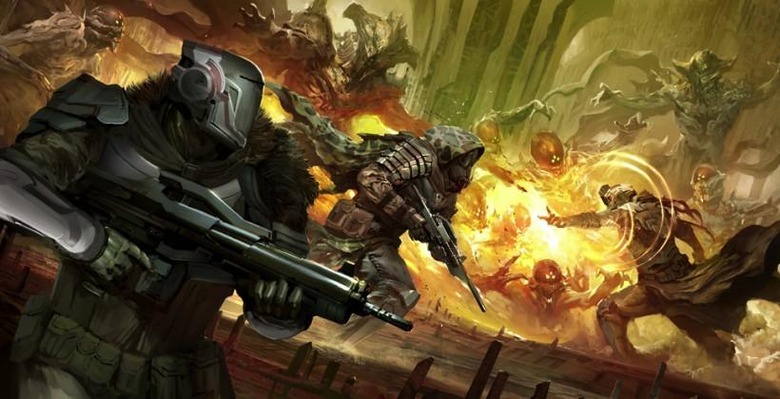 Bungie has just revealed its new project, titled Destiny. Destiny will be a persistent, online multiplayer game that Eric Hirshberg, Activision CEO, dubs as a "shared-world shooter". The game will be released for both the Playstation 3 and the Xbox 360. Bungie has emphasized that there will be no subscription fee for the game. It will require a constant connection to the internet, as it is a major factor in the "persistent, online multiplayer" aspect of the game.
Destiny has a 10-year publishing deal with Activision. Bungie has revealed that Destiny will be released as 10 "books" over the course of 10 years. Each book will have its own beginning, middle, and end. There are currently 350 developers in Bungie working on the game. There are also teams outside of Bungie that are able to co-locate with each other, which provides Bungie with the ability to rapidly create and improve every aspect of the game. Bungie also stated that the Destiny franchise will be brought to multiple devices later on, also emphasizing that there will be a mobile app that lets players track stats, quest info, and notifications from the in-game world.
While Destiny is going to be a online multi-player game, it will be different than an MMO. Destiny's story takes place in the Earth's solar system after a mysterious cataclysm wipes out almost all of humanity. The survivors are relocated to the 'safe zone', which also acts as the beginning zone for new players. There will be 3 classes; Hunter, Titan, and Warlock. The only class with a notable difference is the Warlock, who can cast spells. Bungie says that despite there only being 3 classes, each character will be unique to the player, and will grow with the player throughout the game. In the 'safe zone', there will be an alien sphere called 'The Traveler' that supplies players with weapons, magical powers, and defensive equipment. While in the 'safe zone', players can meet up with their friends, and/or they can use spaceships to travel and raid new territories.
The game very much emphasizes cooperative play, but you can still play the game solo. Bungie, however, says that in order for players to realize "the vision of the game", they have to play with other players. While in public areas, such as towns, players will be paired up with other players similar to them. This is based on the levels of the players, as well as other similar aspects. Bungie emphasizes that public areas will not be overcrowded like in MMOs. There will not be thousands of people crammed into one place, but rather a controlled amount. Also, unlike other multi-player games, Destiny will not have a lobby interface or menu for tracking quests. Everything happens in real-time, where players just wander the world, meet new people, and participate in activities that appear at whim.
Activision and Bungie both kept quiet about some important details, like when the game will be released, but they do have a very impressive goal in mind. It will be very interesting to see the two companies try to execute its 10-year plan, and whether or not they will succeed. Maybe if they do consider implementing eSports with the game, Destiny will have a good shot of lasting a long time.
[via Wired]