The Taiwan-based company BungBungame has developed a prototype high-end Android smartphone with a target price point of $299, a low price for the specs. The phone is called "Project S" for now. Johannes Knapp of NewGadgets.de tipped us to a hands-on he recorded recently when he visited the company's headquarters.
The prototype you're seeing here has a true octa-core CPU with 3GB of RAM and 32GB of storage. It sports a 2560 x 1440 WQHD display — a standard usually used in larger screens like laptops and monitors. The 5.8-inch screen splits the difference between, say, an iPhone 5 and an Asus Fonepad Note 6. That comparison is shown below.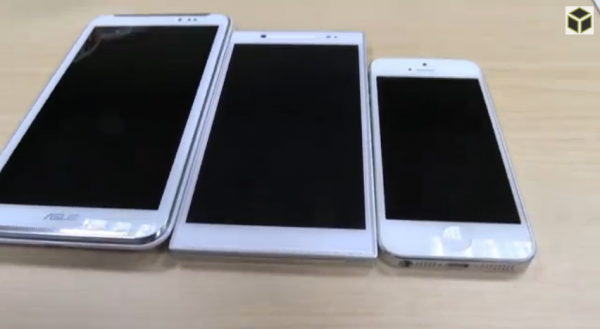 The body of the device is intentionally as clean as possible. It's an aluminum-and-glass phone with hidden stereo speakers, earpiece, and microphone. Even the BungBungame logo will be removed for the final product, letting the distinctive form speak for itself.
Project S has ports for micro USB, triple-microphone recording, 3.5mm stereo audio jack, micro SD slot expandable to 64GB, and a micro SIM slot. A full range of on-board sensors are integrated. Charging can be done wirelessly or via USB. The performance of the 3,000 mAh lithium-ion battery hasn't been finalized as yet.
Have a look at Knapp's hands-on and an image gallery below.