Buffalo WHR-HP-G54DD - First router to come preinstalled with DD-WRT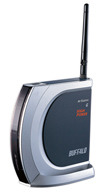 If you've never heard of DD-WRT, it's a gamer's best friend. More specifically, it is a firmware that can be used on many popular routers to give you greater control over it. I've personally installed it on a cheap Buffalo router and currently use it to make my Xbox 360 connect to the internet wirelessly without having to purchase Microsoft's $100 adapter. Like I said, a gamer's best friend.
Apparently Buffalo has noticed a trend in people hacking their routers with this firmware, so they've decided to offer the first commercial router with DD-WRT preinstalled. I must commend Buffalo on this decision, as the DD-WRT firmware isn't just good for making a cheap wireless card for your 360 (or any other device with an ethernet port) but it also is a bit more secure than what you'll find installed on many routers.
Unfortunately, you won't want to purchase this as a cheap alternative to the 360's expensive wireless card, as it's going to set you back around $85. However, those looking for the extra features and security of DD-WRT, but don't want to hassle with trying to install it on your router, the WHR-HP-G54DD s a great buy.
NEW BUFFALO ROUTER BRINGS ENTERPRISE PERFORMANCE TO THE SMB MARKET [via hexus]