Buffalo SHD-NSUM SSD with SATA-II and USB 2.0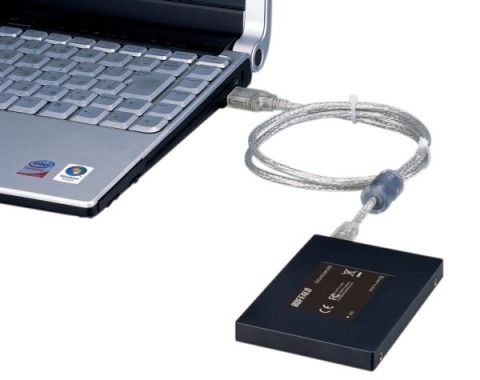 Buffalo have announced their latest SSD range, the SHD-NSUM, and while we're used to seeing solid-state drives nowadays, these new models do have at least one feature to differentiate them.  As well as giving the 2.5-inch drives the usual SATA-II interface, there's also a micro-USB 2.0 port that lets you access data before you install the SSD.
That means you can image the drive prior to dropping it into whatever gadget is getting an SSD speed boost, or alternatively should your computer suffer a hardware failure it's straightforward to salvage data from it. Buffalo claim a 30-percent speed boost over a standard HDD.
Three versions of the Buffalo SHD-NSUM will be on offer, ranging from the 32GB SHD-NSUM32G, through the 64GB SHD-NSUM64G, to the 128GB SHD-NSUM128G. They'll be priced at 12,000 yen ($124), 21,000 yen ($217) and 38,000 yen ($392) respectively when they launch in Japan in March 2009.
[via Akhibara]