Buffalo LinkStation Pro Duo review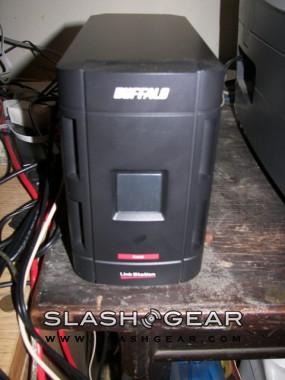 So I met with Buffalo at CES, and then shortly after they were kind enough to send me their LinkStation Pro Duo for review. I must say I am impressed, it is quite squarely aimed at business users, but for home users, it has some fairly useful features as well.
The first thing that hit me when I took it out of the package was that there didn't seem to be enough, for lack of a better word, crap, in the box, but there was. This thing has such simple setup that other than the unit itself all there was inside was the power cord, Ethernet cable, software disc, and then a quick start guide and some warranty information. The power cord was like the outlet half of a laptop power cord, no brick as the power supply was built into the unit along with a cooling fan.
One other thing that surprised me was the size of this thing. It measures in at 3.9x6.4x8.7 inches, which is about the same size as any other dual drive external hard drive, but this thing has some heft with a weight of 6.8 pounds! So, even if you could connect to it directly via USB, it still wouldn't be all that portable of a solution.
So, I plugged it in, attached the Ethernet cable to the device and then the other end to my router and then I went and installed the software. The software installed NAS Navigator which allows you to change some setting for the drive from that interface and also links you to the web interface for the drive as well where all the other settings can be accessed and changed. The software also had to courtesy to, on my Windows machine, automatically map the device as a network drive.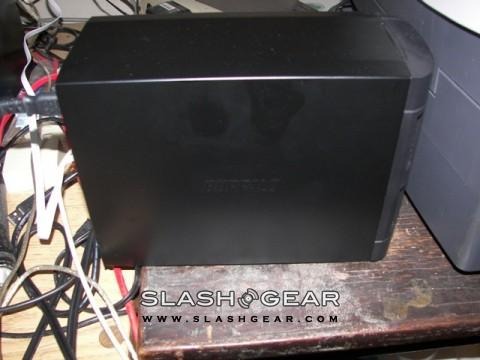 Inside the box there are 2 500GB hard drives, you have your choice of running those as one giant 1TB drive in RAID 0 or as a mirrored 500GB volume for data redundancy in RAID 1. I chose to run it as a large 1TB drive because I don't have anything sensitive enough to need data redundancy, and I thought I could come close to filling up 1TB with all the junk I have on my computer, but alas I cannot, that's a lot of data.
Actual performance of the drive was pretty amazing once I got all the data I wanted on it, I wanted to see how fast the data transfer was, so I transferred as much as I could to the drive, I had to separate transfers going at the same time with a total of 216GB of data being transferred, it took a few hours, but one finished before the other, so the first transfer sped up a lot after that, so multiple transfers apparently slows things down, and I only have a 100MB network, but the drive has a gigabit Ethernet port. So the multiple transfers plus the fact that the drives are just 7200RPM SATA drives, plus the fact that I was transferring 216GB of data, and I can see why it took a few hours.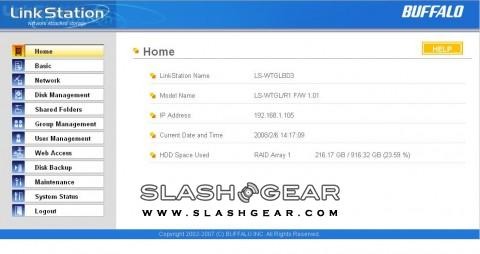 But, once the data was on the drive, accessing it from the web interface on another machine and downloading something was blazing fast, my other desktop hit a little over 5 megabits per second when downloading a file from the drive. Obviously a download from a computer not on the local network, via the Web Access interface is going to be determined by your ISP and your max upload speed. Also, one nifty thing they did have was that you could play music from the drive within the web interface using the QuickTime browser plug-in, or you could download it and play it.
On the back, it has a power port, the RJ-45 jack, a USB port, a power button, and a power switch. The USB port is the same type as is on your computer and is for connecting a flash drive or another external hard drive, not for connecting to your computer. The power button is what turns the device on or off; the power switch is for manual or auto modes. When you first set up the device, it must be in manual mode, but after you have it set up, you can switch it to auto and it will shut off whenever the PC its connected to is shut down, I left it on manual because I wanted to be able to access it when I wasn't home, and I didn't feel like leaving my computer on to do so.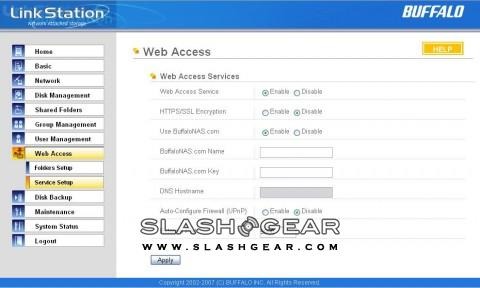 This particular drive supports TCP/IP, SMB, FTP, HTTP, NTP protocols; it also supports Active Directory as a client and can be accessed from anywhere using the Web Access interface. Here's how the Web Access interface works, you set up the device for Web Access by assigning it a name (it has to be one that hasn't already been taken) and then regardless of whether you have a static or dynamic public IP address it will resolve all of that for you, all you have to do is go to BuffaloNAS.com/yourNASname and you are in.
Now, that sounds easy, but for business users there are tons of features to help keep things secure at the same time. First off, you can set up multiple shares on the drives and set up separate user accounts for everyone (or you can assign those permissions in AD) and then set which shares they have access to, this would allow only users with the proper rights access to the drive both internally or externally. Or you can set access to the drive to anyone, and then anyone who has the name of your NAS can go to the Buffalo NAS site and get on your NAS and download stuff. On the NAS' web interface there are tons of other management and security features making this the ultimate in convenience and security.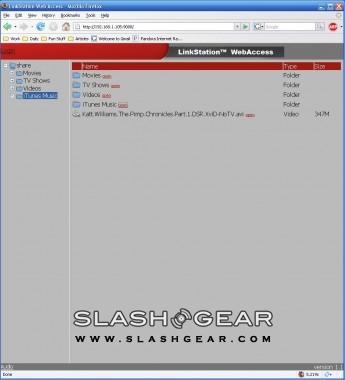 One last cool feature of the drive is that it also comes with Memeo backup software for one click backups of your system which is nice. I didn't have much of a use for it as I never do backups anyways, but I am sure there is a large audience out there for such a feature.
Overall, I love this drive, and although I'd like to keep it, I sadly must send it back, but I am definitely going to check out a few other NAS units and if I don't like any of those more, I'm buying one of these, it really is quite amazing. But alas, I must give the downsides as well as the upsides, but don't worry, there aren't many. The first is that although this drive is aimed at businesses where there will likely be someone who knows what they are doing, if a home user were to buy one and didn't know what they were doing, setting up the web access could be a pain with all the port forwarding, setting up the share, and all that, but they have tried to make it as easy as possible, and if your router supports UPnP you could be up and running in as little as a few clicks, but if not, manually forwarding the port could be a bit of a daunting task, but its not impossible. The second complaint I have is that when it mapped the drive as a network drive, it mapped it, in Windows, to the next drive letter which meant that every time I connected something via USB, such as a flash drive or my other external hard drive, to my computer the new device wouldn't show up, because it was also assigned the same drive letter, it took me a while to figure this out, and from then on I've had to change everything I plugged in's drive letter manually, I am sure there might be an easier, more permanent fix, but I don't know what it is. My last complaint is that in the Web Access interface, you can only download a single file at a time, you can't download the entire contents of a folder all at once, something to fix this would be great. Overall, I give this gadget 4 out of 5 gears, its really cool and if you are a business user definitely warrants the three to four hundred dollar price tag (depends on where you buy it).
[rating:4/5]