Bud Light Beer Fridge Only Opens When The Cleveland Browns Win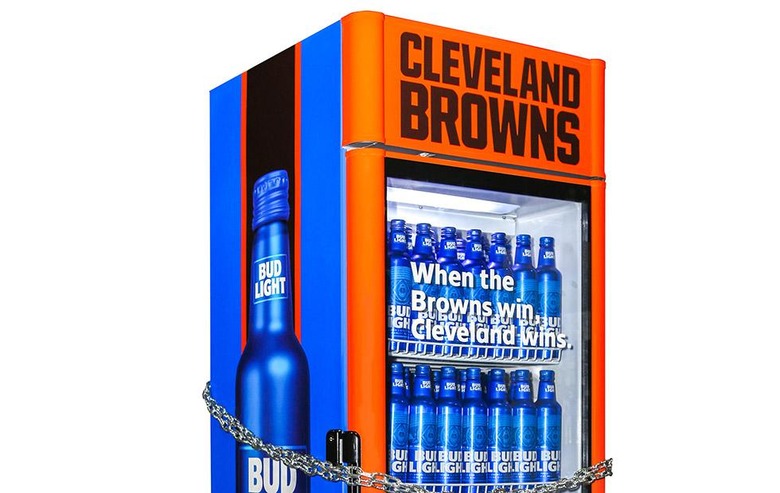 Budweiser has a new promotional smart beer cooler that feels an awful lot like rubbing salt in a wound: it only unlocks when the Cleveland Browns win a game. The company is providing these coolers — each a large fridge with a glass front showcasing shelves full of Bud Light — to the FirstEnergy stadium where the Browns play, as well as at bars throughout Cleveland. Presumably it'll be months or years before they unlock.
The Cleveland Browns, for those blissfully unaware, is an NFL football team with a long history of game losses. Jaded fans faithfully take to bars on game day hoping that this day will bring one of those rare wins that keeps the embers of hope glowing. Most of the time, though, the team loses and no one is surprised.
That hasn't stopped Anheuser Busch from introducing a new beer cooler with smart tech that keeps it locked tight until the Browns win a game. When that happens, the coolers' locks will automatically pop open, enabling fans to imbibe on the bottles of Bud Light nestled within.
The company calls its new coolers Victory Fridges, presenting them with an air of optimism as a reward for when "the Browns capture their first regular-season victory of the 2018 NFL season." Optimistic indeed. Anheuser Busch is working with Ohio wholesaler House of LaRose to install these fridges throughout the City of Cleveland.
Fans will find the Victory Fridges in the FirstEnergy stadium where the Browns play, as well as in Cleveland bars that have purchased them. In describing its product, Anheuser Busch explains that its "Bud-E Fridge" smart tech powers the new Browns Victory Fridge.
Talking about the new promotional product is the Browns' Executive VP Dave Jenkins:
Our top priorities are to build a consistently winning team and to create unique experiences for Browns fans, and the Bud Light Cleveland Browns Victory Fridges will give our fans a special opportunity to celebrate our first win of the 2018 season. We have the most passionate, loyal fans in sports, and we are excited to partner with Bud Light on this promotion that they created specifically for Northeast Ohio due to Browns fans' unmatched support of our team.
For reference, the Cleveland Browns' last win was in 2016.
SOURCE: Anheuser Busch