BT boosting Infinity speeds for free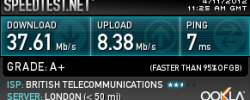 The retail side of BT has today announced that they're increasing speeds for BT Infinity customers at no extra charge. The change comes after the release of the new Openreach FTTC (Fiber to the Cabinet) products, enabling speeds of up to 80Mbit/s down, and 20Mbit/s up. Previously the maximum speed that customers could attain was 40Mbit/s down and 10Mbit/s on the BT Infinity 2 product, although new customers signing up from April 12th will automatically benefit from the higher speeds.
Existing customers who want to sign up for the faster speeds can also do so at no extra cost, but it will require a new two-year contract. While the wholesale product is typically referred to as 80/20, BT is being somewhat cautious: they say the maximum attainable speed is 76Mbit/s down, and 19Mbit/s up. The projections for the existing product have been altered to, with BT now saying that package offers 38Mbit/s down and 9Mbit/s upload.
BT is making the move in response to Virgin Media's recent speed increases with their own fiber product. Virgin Media said recently that the maximum speed available on its service will soon be 120Mbit/s, although upload will "only" be 12Mbit/s, falling short of what BT's product is capable of. Price wise, both products are fairly similar: Infinity 2 costs £26, plus BT's £10.50 line rental, whereas the 100Mbit/s product from Virgin is £34.75 and doesn't line rental.
[via thinkbroadband]