Brother's New MPrint MW-260 Handheld Printer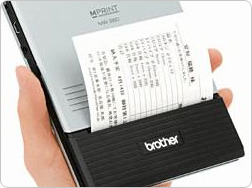 Forget about finding the nearest Kinkos when you urgently need to print something while on the go. The MPrint line of handheld printers from Brother along with a trusty notebook or Windows Mobile handheld will insure you're always prepared to print wherever you are. Brother's latest MPrint device is the MW-260, which can handle a larger paper size of A6 rather than the A7 of previous models. At a maximum 300dpi resolution, the tiny printer can pump out an impressive 20 black and white pages per minute.
And with the ability to connect via Bluetooth, IR, or USB, you wont have the hassle of carrying around additional cables. This handheld printer is set to release first in Japan during March 2007 and then soon after in North America. There is no word yet on pricing.
Brother updates with larger mobile printer [Via: Electronista]