Brother SV-70: another pricey ereader for Japan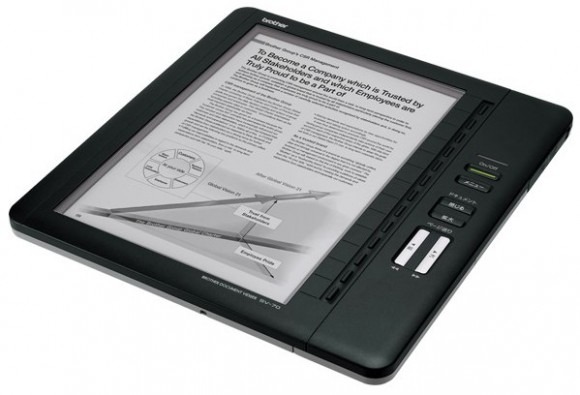 Brother's hefty SV-100B "Document Reader" didn't make it over to the US or Europe, despite its Japanese launch early last year, but the company already have a second model to show.  The Brother SV-70 has the same 9.7-inch 1,200 x 825 display as the SV-100B, and in fact the same dimensions (including a decent 15.5mm thickness).
In fact, the only real differences we can spot are that the onboard memory has been halved – down from 1,000 pages on the SV-100B to 500 on the SV-70 – and that the integrated Bluetooth 2.0+EDR has disappeared.  The SV-100B was able to connect wirelessly to a cellphone for downloading new documents, but obviously users of the new model aren't expected to demand that functionality.
We're hearing the Brother SV-70 will drop for the equivalent of $1,092, which as you might well imagine puts it firmly into industrial markets rather than Kindle home ereader competition.  No word on when it will go on sale, nor whether Brother will send it further afield than Japan this time around.
[via Generation MP3]