Brother SV-100B A4 document reader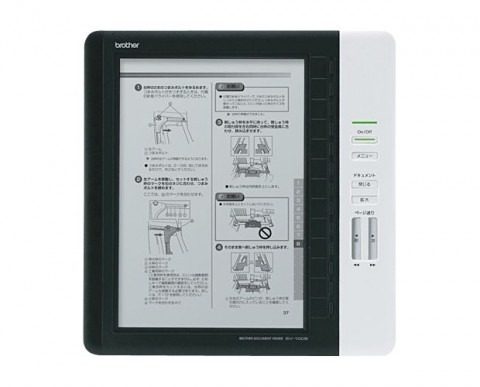 Brother Japan have announced a "document reader", the SV-100B, intended for displaying ebooks and technical documentation.  The Brother SV-100B, unlike other ebook readers like the Amazon Kindle 2 or Pixelar E-Reader, has an LCD rather than e-ink display, measuring 9.7-inches and running at 1,200 x 825 150dpi resolution.
Despite not using the power-frugal e-ink, the SV-100B still manages 83hrs of battery life from a single charge.  You can also swap out the battery for a second one, should you really need extended runtime.  While there's no internal storage, you can fit 10,000 A4 pages on the included 2GB microSD card.
Start-up time is just five seconds, and files can be transfered over either via USB or Bluetooth.  Pages seemingly have to be converted using Brother's own SV-Manager software, though, before they can be viewed; it's unclear what DRM, if any, this applies.  The Brother SV-100B will land in Japan on June 1st, priced at $1,450.  No word on availability elsewhere as yet.