Broadcom unveils BCM43142, first 40nm WiFi and Bluetooth combo chip in the industry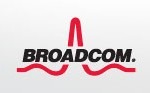 Broadcom has announced an industry first at Computex. The announcement is of the first 40nm WiFi and Bluetooth combo chip. The chip is called the BCM43142 InConcert combo chip. It is aimed at the notebook and netbook market where the reduced size and power consumption are of the most benefit. Smaller size means that the machines can potentially be made smaller and less power consumption leads to longer battery life.
The chip uses InConcert tech from Broadcom to allow Bluetooth and WiFi to coexist on multiple platforms. The chip will work with both Windows and Android platforms. The WiFi side of the chip will support normal WiFi and Wi-Fi Direct connectivity. Wi-Fi Direct allows WiFi devices to connect to each other without needing a wireless network for data sharing.
Broadcom is offering a BCM43142 software development kit with APIs for Bluetooth Low Energy, Bluetooth high speed, and 802.11n Wi-Fi Direct functionality. Broadcom is demonstrating the new chip and the software that goes with it at Computex this week. Samples are being offered now for early engagement customers according to Broadcom. There is no indication when we will see products on the market using the new chip.