Broadcom outs 5G WiFi chips for 1.3Gbps wireless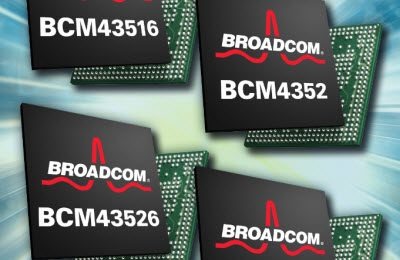 Broadcom has revealed its plans for up to 1.3 Gbps WiFi, with the next-generation of super-speedy wireless allowing you to get further away from your router while still streaming Full HD video. The new Broadcom 802.11ac (5G WiFi) chips deliver up to three times the speed and six times the power efficiency of current-gen 802.11n radios, as well as being smaller thanks to 40nm production processes. That means smartphones, tablets and other gadgets can be smaller too, despite promising backward compatibility with previous WiFi standards.
Currently Broadcom has five new wireless chipsets delivering 5G WiFi: the BCM4360, BCM4352, BCM43526 and BCM43516. Each uses the 80MHz channel, as well as beamforming to direct the signal at the recipient rather than simply radiate it out generally. That boosts performance and data reliability, and Broadcom also reckons there are power savings too since data is transferred faster and devices can go into low-power modes more promptly.
The four different chipsets differ in the number of simultaneous streams they can handle. The PCIe BCM4360 uses 3-stream 802.11ac for up to 1.3 Gbps, while the PCIe BCM4352 and USB BCM43526 use 2-streams for up to 867 Mbps. Finally the USB BCM43516 manages up to 433 Mbps with a single stream.
Broadcom is sampling the new 5G WiFi wireless chipsets now, though there's no telling when exactly we'll see them show up in routers, phones, tablets and computers.
5G WiFi overview:
[vms 878fea090ed070b44f1a]