Broadcom BCM2077x Bluetooth chip family surfaces in Spain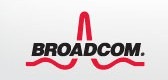 Broadcom is always on hand at MWC with new chipsets for all sorts of uses. One of the new unveilings that the company has at MWC 2011 is a new Bluetooth chip family that will add cool features to devices using Bluetooth like voice recognition and more. The chip family is the BCM2077x and includes three chips with the BCM20770, BCM 20771, and BCM 20772.
All three of the new chips use low power 65nm CMOS design and support wireless stereo music and hands free phone calls with the same headset. Key features include a ROM-based solution that needs no external memory for lower cost and less bulk. The chips have noise cancellation tech for clear audio and voice recognition for voice commands.
The voice prompts support multiple languages, the language tech is integrated into the chip, and the chips have fast charge tech that allows recharging in a few minutes. The BCM20770 is an entry-level handset with basic features. The BCM20771 is aimed at single mic mainstream headsets with SmartAudio capability. The BCM20772 is the high-end offering with all the features available.