Bristol Bullet has the 4.8L V8 heart of a BMW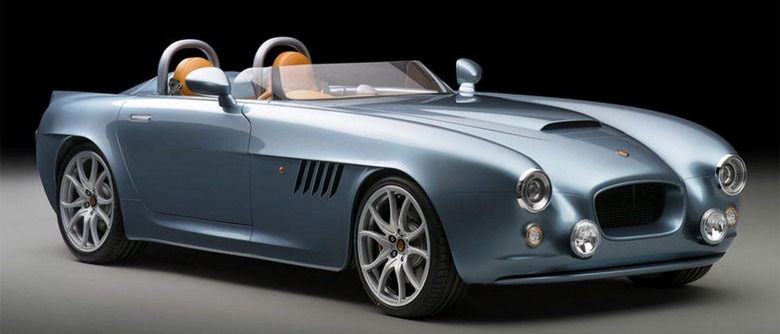 I am a sucker for British roadsters, I always have been. I blame the Triumph Spitfire for the affliction. A new sports car has surfaced from a firm called Bristol Cars and it's a pure British roadster with a German heart. The car is called the Bristol Bullet and it's dead sexy. The car has very flat and square sides, but it is very attractive.
This is the first new model from Bristol Cars in more than a decade. An old speedster that the owners of the company found under a tarp at the factory inspires the Bullet. Bullet roadsters are handmade in Chichester with body panels made from carbon fiber composites.
The use of lightweight materials keeps the curb weight of the Bullet at 1,100kg. Bullet buyers can choose from a traditional wood paneled dash or modern carbon fiber weave. The car has a touchscreen inside that links with your smartphone via Bluetooth or WiFi. The engine for the car comes from BMW and is a naturally aspirated 4.8L unit.
This is the same V8 used by other small automakers including Morgan. The V8 makes 370hp and 370 lb-ft of torque. The V8 is mated to a BMW sourced 6-speed manual or automatic. Those aren't big power numbers by any means, but in a car this lightweight that is plenty of go for impressive performance. The car can reach 62mph in 3.8 seconds and has a 155 mph top speed. Word is that Bristol Cars is also looking at an electric version of this ride and a hybrid. The exact time frame for those electrified models is unknown.
"This unique speedster sets the tone for the future of Bristol Cars – with a focus on luxury, performance and elegance," says General Manager Julian Ramshaw. "The discovery of the prototype at the factory provided us with the perfect way to celebrate this incredible marque's 70th anniversary."
SOURCE: Top Gear