Breitling enters the smartwatch market with its B55 Connected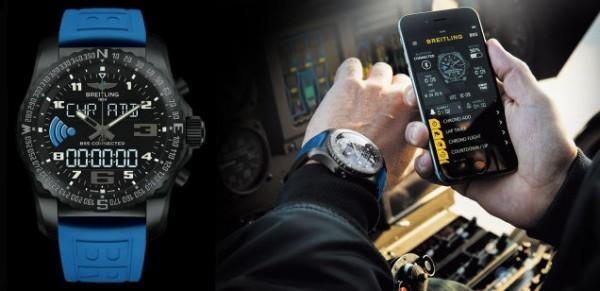 Breitling is keeping it simple with its first smartwatch, the B55 Connected. This smartwatch does without a tangled cluster of apps, like the Apple Watch. In fact, the B55 Connected doesn't even offer touch screen controls. The B55 Connected is more of an enhanced timepiece than a new wearable mobile device. It aims to be classy and sleek, although it still has the rubberized sports band that is so ubiquitous in wearables. Breitling has managed to keep it simple by relegating most of the controls its smartphone app. Using Bluetooth wireless connectivity, the watch can sync with its proprietary app for easy controlling.
The functionality B55 Connected is still that of a watch, but the smartphone allows an easier interface to make any adjustments. For example, the date, time, and alarms can all be set by the Breitling app. I like the idea of using an easy-to-read interface instead of having to memorize which pattern of buttons need to be pressed just to change to daylight-saving time.
You can set up to two daily reminders in addition to the alarm function, but that's about it in the way of smart features. This watch can't display any notifications from your phone, read emails, or make calls. The simplicity is deliberate as Breitling states, "the chronograph remains the absolute master." Meaning, the smartwatch is still a watch, and its other smartphone enhanced features are simply icing on the cake to enhance user friendliness.
Breitling's original demographic was pilots who needed an accurate timepiece. It has, of course, expanded its market but is still looking to make sturdy and accurate Swiss-made watches. The Breitling B55 doesn't appear to innovate the smartwatch market. Instead, it looks like Breitling is just throwing its hat in the ring to compete, as it offers a smartwatch for its brand-loyal clients.
Check out the new all the features of Breitling's B55 Connected in their video here.
Source: Gizmodo