Breath Of The Wild's First DLC, The Master Trials, Gets New Details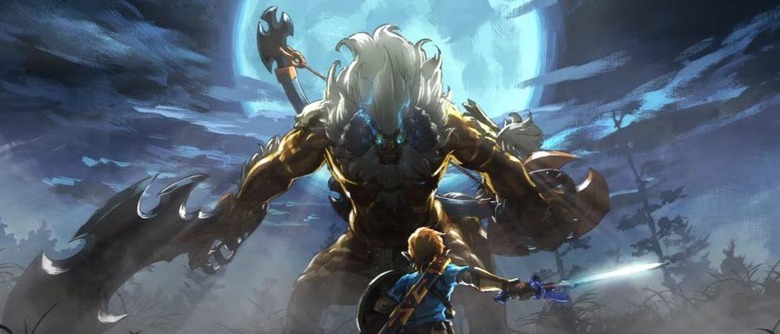 While a lot of the focus on Nintendo's E3 may center around Metroid and Mario, Breath of the Wild was also on display during the show. In a trailer run yesterday during the company's E3 livestream, Nintendo gave us our first looks at the DLC coming along with the Breath of the Wild season pass. Today, Nintendo is diving into further depth about what we can expect from the first DLC pack, dubbed The Master Trials. We've heard a lot of this information before, but there are some new details that will definitely please Breath of the Wild fans.
This seems to be the DLC pack that most Breath of the Wild veterans will be interested in, as it includes Master mode, a new difficulty that significantly ups the challenge of Breath of the Wild. Nintendo says that every enemy in the game will go up by one rank, so you'll have a tougher time of taking them down right from the start. We'll even see high-ranking enemies that aren't in the normal version of Breath of the Wild, so expect quite a challenge from those as well.
This DLC will also feature the Trial of the Sword. In this mode, you'll fight back waves of enemies through a dungeon that spans 45 different rooms. Complete the Trial of the Sword, and the Master Sword will be "awakened," forever more in its powered up state. This means that you'll always have the Master Sword at your disposal should all your other weapons break.
Even with those two game modes incoming, one of the most interesting additions is Hero's Path Mode. With this, you'll be able to track the past 200 hours of your journey and play that back on an interactive map. You'll be able to use this mode to find places you haven't traveled, so if there's a shrine or a few Korok seeds you simply can't find, this mode may help you in a spoiler-free way.
Beyond that, this mode will add nine new pieces of armor, including the Korok mask, which shakes when there's a Korok hiding nearby. Considering that there's more than 900 Koroks hiding throughout Breath of the Wild's massive world, this will indeed be handy item to have. The rest of the armor pieces are hidden in chests throughout the game world, so you'll need to track those down before you can use them.
Those of you who want to play Master Mode from the beginning can breathe a sigh of relief too, as Nintendo has announced that Master Mode will use a separate save file. That means no creating a second profile on your Switch, and no overwriting your original Breath of the Wild file just to play Master mode. The Master Trials will be released on June 30, so just a couple more weeks to go before you can dive back into the world of Breath of the Wild.
SOURCE: Nintendo