Breaking news: real Apple Tablet revealed?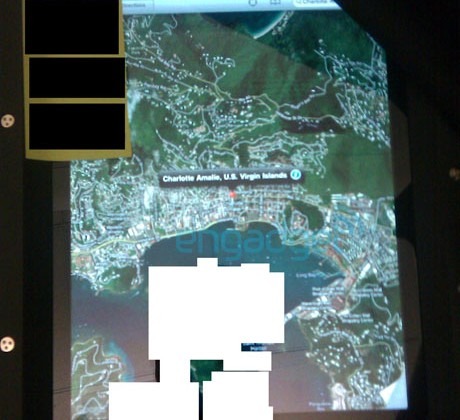 No confirmations yet, but two highly attention-grabbing images of what seems to be a prototype Apple tablet have just been released a few minutes ago, or what looks like the tablet enclosed in a leather case with snaps.  It looks fairly good-sized, and from further inspection, is clearly running some variant of an iPhone app or maybe the Safari browser, but of highly-scaled resolution.  A cellular service icon (that shouts "No Service") and Wi-Fi meter can also be spotted in the pictures, but unfortunately we can't yet see what carrier it's on, drat.  So is it real?  We don't know yet, but it very much could be the real deal.
Engadget also has received a tip  that claims to shed light on some tablet specs, and they're told that " the device will have a 10-inch screen and look like a larger iPhone with a MacBook-like aluminum back, and that pricing will run $800 on contract with Verizon and $1000 without when it arrives in March,  also that the official name remains a secret and that Apple employees are still calling it by the codename of K48".
Finally, rumored has it that the  iPhone will be (gasp) coming to Verizon finally, and that iLife '10 will also be announced tomorrow at the press event.  Want to get to the root of these rumors?  Come follow our SlashGear liveblog tomorrow, where we will be streaming live updates from the Apple press event at 10AM PST.  http://live.slashgear.com/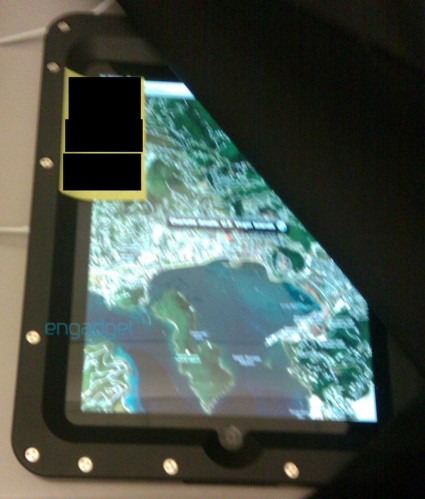 [via Engadget]