Braven Bluetooth speakers offer daisy-chain and mobile charging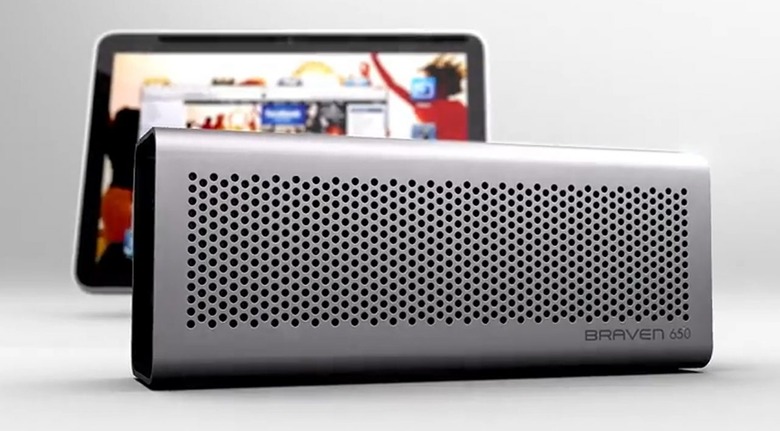 There's a lot of Bluetooth speakers out there at the moment, some of them with a surprising amount of fidelity. But if what you want from your mobile speakers is flexibility and power (in more ways than one) the Braven Six series might just be for you. The three brand-new units offer the standard A2DP Bluetooth audio profile for iPhone, Android, Windows Phone and just about any other Bluetooth device, with the added ability to act as a speakerphone. In addition you can "daisy chain" the speakers together for more sound, and in a pinch, connect your smartphone to the built-in USB port to charge off of its integrated battery.
There are three new models being announced today: the Braven 600, 625s and 650. the 600 is naturally the cheapest among them at $149.99, and features an aircraft aluminum body in either Ash Grey or Moab Red. The battery is rated for 14 hours of continuous playback.  The 625s adds a ruggedized exterior in black with various gear design for the outdoorsman, including a waterproof bag and a USB flashlight. The $179.99 jet black 625s is rated for 16 hours of playback. The high-end 650 copies the aluminum styling of the 600, but adds aptX and AAC audio encoding and 20 hours of playback. The plain aluminum 650 is rated for 20 hours, and will cost $189.
All three speakers will be hitting retailers in late June. Each is rated for communication with your phone or tablet at up to 33 feet, and work with FaceTime, iChat, and Skype. In addition to the Bluetooth connection (which tends to lose highs and lows in high-fidelity audio) you can use an old-fashioned 3.5mm jack, and the speaker can also output its Bluetooth audio through another headphone jack. Braven didn't say how large the batteries in each speaker were, but you can be assured of multiple full charges for a standard cell phone. All three are up for pre-order on Braven's website.