Brando USB Notebook Cooling Pad has HDD Slot built in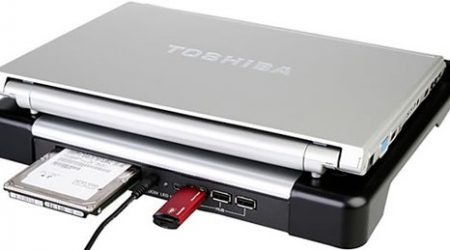 Brando is known for their many computer gadgets and USB devices, but this one is especially cool. The USB Notebook Cooling Pad is not your ordinary USB-powered computer cooler. In fact, this one features a HDD Slot built right into it.
This laptop cooler measures in at 300m x 252mm x 32mm. It weighs just 504 grams and looks pretty stylish. But besides its looks, this Cooling Pad is actually equipped with three USB hubs, making connecting your devices much easier. Plus, it features a 2.5-inch SATA HDD slot, so hooking up external storage shouldn't be a problem, either.
The HDD slot supports up to a 250GB SATA HDD. With two fans, this Cooling Pad is one of the most feature-filled I've seen. You can get the USB Notebook Cooling Pad now for $33. When using it, just make sure not to bump your HDD or other devices on anything as they stick out of the back of the Cooling Pad.