Brando Mini Bluetooth Keyboard compatible with PS3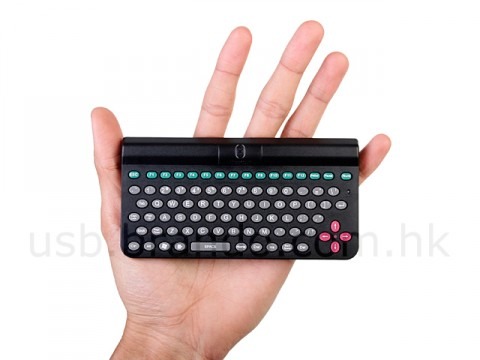 Brando have taken the tiny wraps off of their latest Bluetooth keyboard, and it's definitely been created with portability rather than usability in mind.  Measuring just 140 x 70 x 12mm, the Mini Bluetooth Keyboard has a 15m range and uses the Bluetooth 2.0 standard, happily connecting to a laptop, smartphone (with the right Bluetooth profile) or even your PS3.
The 83-key 'board has all the usual function keys and arrow buttons, though we can't imagine them being quite as pleasant to type on as a buckled-spring keyboard or even the cheap thing that came with your last budget desktop PC.  Still, neither of those would likely fit into your jacket pocket, nor nestle discretely with the remote controls when serving as a PlayStation 3 keyboard.
The Brando Mini Bluetooth Keyboard is available now, priced at $39.  It runs on two AAA batteries, and has a hardware power-switch.