Brando bmorn BM-888 touchscreen PMP manages 720p HD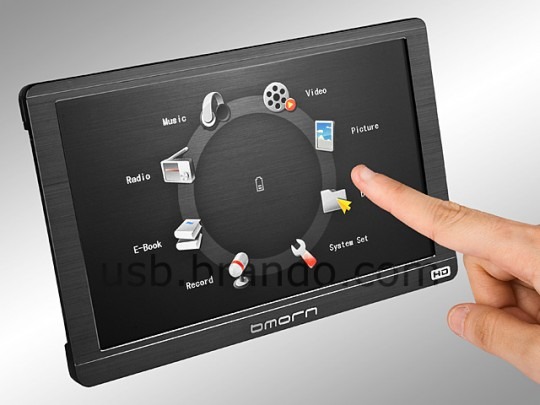 We're used to Brando having a selection of – dare we say it – moderately rubbish USB peripherals and other novelty nonsense, but their latest PMP actually has us tempted.  The 7-inch touchscreeen bmorn BM-888 apparently supports 720p video through a TV output, and can play back MPEG (AVI), RM, RMVB and FLV video files along with lossless audio and image files.
There's also an FM radio and microphone, together with an ebook reader, and you could feasibly sit the BM-888 on a table and use it as a digital photo frame, since Brando include a case with a flip-out stand.  The only thing really missing is an internet browser and WiFi, because with that – and assuming the speed was decent – this would be an excellent little sofa-surfing device.
Still, we can overlook the lack of internet connectivity by virtue of the microSDHC slot (an 8GB card is included; 32GB supported), integrated stereo speakers and multitasking support so that you can watch a picture slideshow while listening to music.  It's available now, priced at $149 with $28 shipping to the US.