Brabus Rocket 900 Cabrio is the world's fastest convertible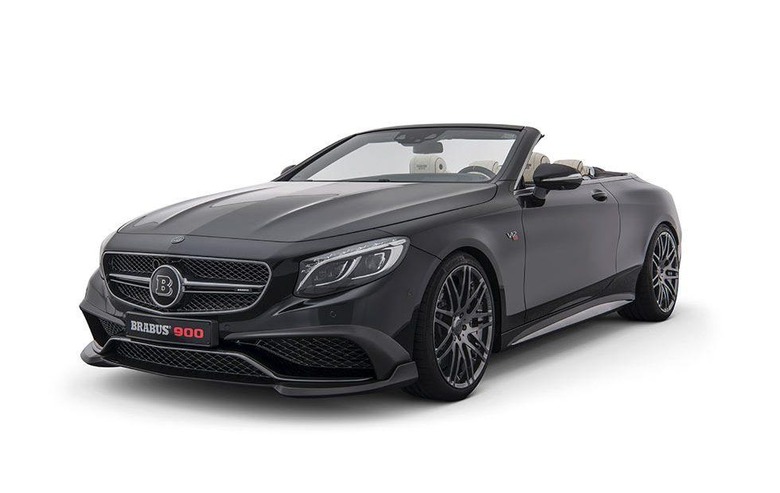 Brabus has taken the already fast Mercedes S 65 and turned it into a much faster car. In fact, Brabus says that this car is the world's fastest and most powerful convertible. The car packs a Brabus tuned Mercedes-AMG twin turbo V12 engine making 900 hp and 1500 Nm (1106 lb-ft) of torque. Brabus debuted the Rocket 900 Cabrio at IAA 2017 in Germany.
The four seater convertible can reach 60 mph from a standstill in 3.9 seconds. The top speed is said to be over 217 mph. Other than a hopped up V12 engine, the car also gets lots of visual upgrades from Brabus. Those include some naked carbon fiber aero enhancements. The Rocket 900 rides on 21-inch forged wheels.
The car also has a Brabus leather interior that is individually finished for each car. The AMG V12 gets more than just a simple tune. Brabus has bumped displacement of the engine from 6.0L to 6.3L. The bore is increased and the car gets forged pistons and billet-steel connecting rods. Special exhaust manifolds for the turbos help increase power.
Brabus also gives the car larger downpipes and a special high performance exhaust system. Intake tuning helps the car reach its massive power and torque output. A special Brabus 900 intake module gets air directly from the radiator grille using an air duct in the hood.
Special tuning for fuel, boost, and ignition was tweaked on the dyno, road, and track. A Brabus Start/Stop memory system is integrated to store the most recent position of the standard start/stop system to keep it active after engine restart or drive mode change. The trans is a 7-speed automatic modified to handle the power. Pricing is unannounced, but you can bet it's not cheap. Buyers can build the Rocket 900 using their existing Mercedes S 65 or buy it as a complete car.
SOURCE: Brabus