Boynq WakeUp iPod clock radio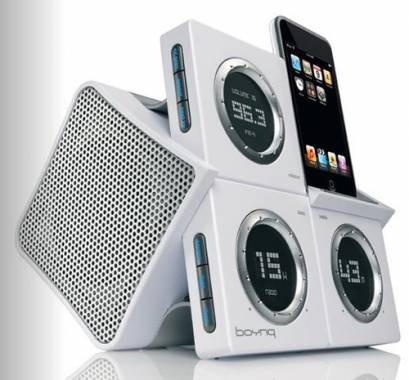 It looks weird, but in a good way, like it could transform into iPodimus Prime at any point. Anyways, the thing perched on its edge are the speaker portions of the device, the front section is the clock and the media selector/controller.
A grand total of 20 watts of output isn't bad for a clock radio, my Altec Lansing 2.1 system only puts out 12 watts, and I wouldn't have traded it for a thing, until one of the satellites blew. So there are four quarters if you will to the front of this device, the top right is the iPod dock, top left is the media selector/controller and the bottom two is the clock.
There is a remote that can control just about everything that is included with the system. There are buttons on the side of each of the squares that control each respective square's functions. The iPods can be synced and charged at the same time, meanwhile other audio sources can be connected via an auxiliary line in. No price or availability right now, so that's that.
Boynq WakeUp docks iPods in unusual form [via electronista]