Bowers & Wilkins unveils Zeppelin Mini for iPod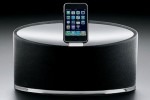 If you want to see some really expensive audio gear, all you need to do is peruse the Bowers & Wilkins website to run across gear costing more than some people pay for a car. The company also makes a line of much more reasonably priced iPod speakers including the Zeppelin dock.
The company has announced the debut of its latest iPod dock called the Zeppelin Mini. Reasonably priced for B&W gear is often more than some people want to spend, and that is likely to be the case here with the Zeppelin Mini retailing for $399.
The iPod dock is set to launch on October 20 and features an update docking arm and a USB port for going direct to the digital output of your iPod. The docking arm rotates to allow users to view album art and the Zeppelin Mini can stream music directly from Mac or PCs.