Boss Micro BR BR-80 digital recorder lets you record your music at home with high quality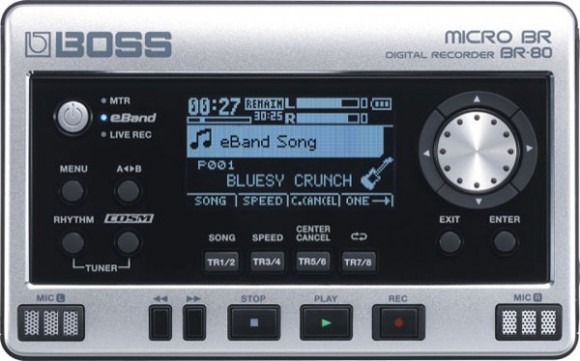 If you are a musician that wants to be able to record your solo play or your entire band in the garage getting a high quality recording to share with friends and others is probably important to you. You can't just whip out your old tape recorder and expect good results. Boss has a new recorder that will put your tracks down in digital format so they are easy to share and promises superb recording quality.
The device is the Micro BR digital recorder BR-80. The little gadget is impressively small at 5-7/16-inches W x 3-7/16-inches D x 7/8-inch H and weighs in at about five ounces. That makes it very portable and easy to take with you on the road. The machine runs on a pair of AA batteries with a rechargeable option. The music is recorded to SD cards and it works with SONAR X1 LE software on your computer and the recorder connects to your PC via USB.
The recorder can record eight tracks at once and supports up to 32GB SDHC cards. It has a MTR mode with 16-bit depth and can record eBand and play them back. It can also playback 16-bit WAV and 64 kbps to 320 kbps MP3's. The live recording mode supports 16-bit WAV and 64-320 kbps MP3s. The device also has a library of built-in backing and rhythm patterns. You can buy the recorder right now for $290.
[via TechCrunch]