Bose VideoWave Crams Everything Into the TV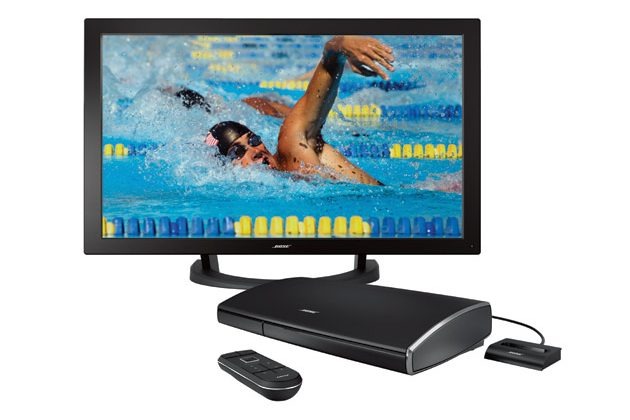 Today, Bose announced something that many probably didn't expect: a TV. But, it's not just a TV, either. Bose managed to cram just about everything into the VideoWave, and it even features a customized User Interface, which Bose hopes will make navigation simpler, and with less clutter. Instead of having your HDTV and a separate sound system, you just have the TV, and the sound system's inside of that.
The VideoWave is a 46-inch 1080p LCD display. Surrounding that display, you'll find 16 speakers in all. You'll find six woofer inside of a magnesium enclosure, which weighs just under 100 pounds. You won't have to worry about calibrating anything related to your surround sound, either, as Bose made sure that happens automatically, courtesy of Bose's Adaptiq. And Bose's PhaseGuide sound radiator projects the sound from the TV at high frequencies, so that they bounce off the walls in your room, effectively recreating the sounds of surround sound.
The wires run out of the back of the TV, which you'll have to connect to a separate set-top box. You'll find three HDMI ports there, as well as two component ports. On the front of the set-top box you'll find a USB port, HDMI, and another composite.
But things get really interesting when you get to the controller. Bose is calling it the ClickPad remote control, and there's actually not that many physical buttons. Especially not from what you'd expect from a TV remote. The real focus of the controller is the area where you simply run your finger along the surface, and a border of options will pop up on the display. You can then select what options you want, like settings for your DVR box, cable boxes, and even iPod settings, that can be accessed thanks to the proprietary dock.
As far as pricing and availability go, Bose announced that the VideoWave will be made available on October 14th, and it will cost you $5,349. Bose is including a mandatory, personal delivery system.
[via CrunchGear]