Bose SoundLink Wireless Mobile Speaker busts onto the scene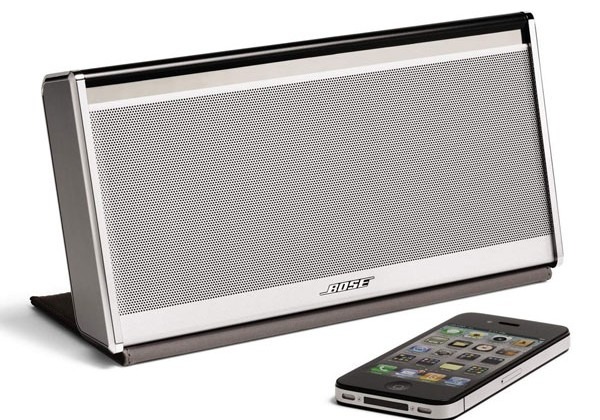 Bose is a premium brand and you can find tons of audio fans that think Bose makes great products and you can find a bunch that think the designs are horrible. If you are a Bose fan, the company has a new portable wireless speaker that you can take with you on the road called the SoundLink Wireless Mobile Speaker. As you can probably figure out, the speaker is designed to connect to Bluetooth smartphones and other gear for playback on the go.
The speaker was designed to offer the user full-range audio from a single handheld enclosure with a small size. It has four low-profile neodymium transducers inside for clear high and mid frequency sounds and dual-opposing radiators that are passive for bass. The speaker has Bluetooth inside and it is about the size of the average book at 2-inches thick.
It has an integrated stand and when the stand is opened to prop the speaker up, it comes on automatically. When you fold the stand down the speaker turns itself off. Power comes from rechargeable battery inside that is good for three hours of playback at high volume and over eight hours at typical listening levels. The speaker is available right now for $299.95 in standard trim with a grey cover. The LX premium trim with a leather cover is $349.99. Other covers are offered for up to $49.95 depending on the style.