Borders to be eBook Seller for Spring Design Alex eReader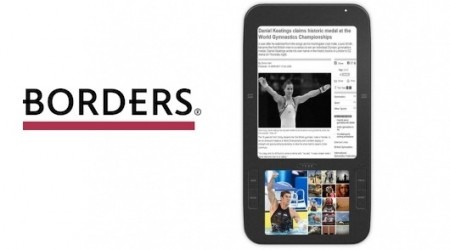 Borders and Spring Design has announced an agreement to feature the upcoming Borders eBook store powered by Kobo on the new dual-display Alex eReader later this year.  The new Borders-branded eBook store will allegedly offer more than two million titles.  Guess Borders was telling the truth all along when they recently denied eBook reader plans – apparently not in-house doesn't count.
"Our agreement with Spring Design represents another step in our digital strategy, which continues to focus on offering book lovers – including our more than 35 million Borders Rewards loyalty program members – high quality content on the device of their choosing," said Borders Group Chief Executive Officer Ron Marshall. "We look forward to bringing a world class eBook experience to Alex users."
The Spring Design Alex dual screen eBook reader was unveiled in October, featuring both a 6-inch E Ink panel and a 3.5-inch color touchscreen, based on Google's Android platform, with integrated 3G and Wi-Fi.  It seems likely that this partnership with Borders will allow the Alex to compete with Barnes & Noble's Nook and Amazon's Kindle.