Borders Kobo Wireless eReader due November 1st for $140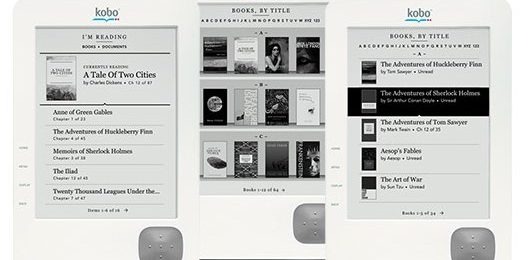 Borders has announced pre-orders for their latest ebook reader, the Kobo Wireless eReader.  Like the previous Kobo model, the new ereader has access to Border's 1.5m ebook titles; however it can now also browse and download them over WiFi.
There's also a new casing design, measuring 4.7 x 7.2 x 0.4 inches and weighing under 8oz, and it's finished in a choice of black, silver or lavender with a textured, soft-touch back panel.  The display is still a 6-inch E Ink panel, and Borders reckon you'll see around 8,000 page turns from a full charge of the battery.
Up to 4GB SD cards can be used to boost storage, and the Kobo Wireless eReader supports ePub and PDF ebooks and is preloaded with 100 classics.  It'll begin shipping on November 1st, and is priced at $139.99.
Press Release:
Borders® Advances eReading Offerings with Kobo Wireless eReader

Borders Rewards members can now earn Borders Bucks twice as fast on the purchase of the Kobo Wireless eReader and Kobo™ eReader

ANN ARBOR, Mich., Sept. 29 /PRNewswire-FirstCall/ — Borders® today announced the addition of the new Kobo Wireless eReader to its digital assortment that now includes an industry leading selection of seven eReading devices. The addition of the new Kobo device advances Borders as a preferred destination for eReaders for virtually every household. Counting among its successes the recent launch of the Borders eBook store, powered by Kobo, and mobile applications — and its rapidly growing selection of eReading devices — Borders is poised for significant growth in the eReading market.

Borders' new Kobo Wireless eReader comes with a built-in wireless connection, upgraded hardware in three new colors and a new processor that drives faster page turns. Just .4 inches thick and 7.8 grams, the lightweight eReader is available in three sleek color combinations: onyx, porcelain with a metallic silver back and porcelain with a pearlized lilac back.

The new Kobo Wireless eReader allows consumers to browse more than 1.5 million books in the Borders eBook store and update their digital library wirelessly, directly from the eReader device, a smartphone or the Borders Desktop Application. With the intuitive control pad and a built-in library-management system, customers can easily navigate and organize their library by title, date last read and author. In addition, customers can add documents using an SD card, Adobe Digital Editions, or drag-and-drop. The eReader also supports EPUB and PDF documents, so customers can enjoy the option of borrowing and reading free eBooks from their local library.

Designed by book lovers for book lovers, the new Kobo Wireless eReader reads like print on paper with its specialized E Ink® screen for a true book-like reading experience. With 16 grey scale levels to choose from, the device offers sharp graphics and crisp text that are easy on the eyes. The device also comes pre-loaded with 100 free classics so customers can immediately begin reading.

Priced at $139.99, the device can be pre-ordered beginning today at www.borders.com/kobowifi and will be available for purchase in Borders stores by the end of October.

Borders' Industry-Leading eReader Selection

In addition to the new Kobo device, Borders also offers the Aluratek "Libre" eBook Pro, Velocity Micro's Android-based Cruz Reader™ R101, Cruz Tablet™ T103 and the original Kobo™ eReader. The Sony®Touch and Sony®Pocket round out Borders' "good-better-best" selection of devices, which are aggressively priced from $99 to $299. Customers can now test-drive and purchase eReaders as well as choose from more than 1.5 million titles from the Borders eBook store within the company's newly unveiled Area-e digital shops. Trained Area-e staff are available to assist customers through the eReader discovery experience, providing demonstrations and answering questions.

"We are committed to offering our customers the best of the physical book and eReading worlds," said Mike Edwards, CEO of Borders, Inc. "For decades readers have known Borders as a trusted destination for exploring and discovering traditional paper books — and now as the only major book chain with a comprehensive selection of eReaders and digital content, we are meeting our customers' reading needs on all fronts. Nowhere else can you browse a selection of more than 82,000 paper books, walk over to Area-e, our new digital hub, where you test drive a variety of e-Reading devices, and then search for your next favorite book in our e-Bookstore.

"We've long believed that even as more readers transition to eReading they will continue to buy traditional books and a recent Harris Interactive poll bears this out," continued Edwards. "The poll found that readers with e-book devices are reading more – and they are also more likely than others to purchase physical books. It's exciting to be in a position to help spur what could very well prove to be a reading Renaissance in this country."

Customer Support on Facebook

Borders has created a dedicated eReading tab on its newly revamped Facebook page. The tab includes an eReading "tip of the week" as well as an eReader/eBooks "deal of the week." Understanding that eReaders are still a new concept to many customers, Borders has created an application to help readers decide which device is right for them. The application includes a series of lifestyle questions, such as "How price conscious are you?"; "How much do you read?"; and "How tech savvy are you?" After the customer completes questionnaire, the system recommends five devices and ranks them according to the customer's preferences.

Borders' Editorial Voice

For decades Borders has maintained a strong editorial voice, guiding millions of customers to enriching and entertaining books. Now Borders is applying that same authoritative voice to eBooks. When customers visit Borders.com, they immediately see eBooks grouped according to various themes for easy purchasing. For example, they may see featured memoirs, famous series, best in eBooks under $3 and Oprah's Book Club picks. The company is also redesigning its title detail pages so customers can quickly find a book and purchase it in traditional print format, eBook, audio book or in other available formats.

Special eReading Offers for Borders Rewards Members

Borders Rewards members can now earn Borders Bucks twice as fast on the purchase of the Kobo Wireless eReader and Kobo™ eReader in store and online. In addition, Rewards members can enter for chance to win a Velocity Micro's Android-based Cruz Tablet™ T103 plus a full year of eBooks in Borders' Cruz Tablet giveaway sweepstakes going on now through Oct. 19th on Borders.com. Announced earlier this month, the Cruz touch-screen device also plays video and music, and provides a full color web browsing experience. The Cruz Tablet gives consumers Wi-Fi access to the Borders' eBook store and access to the Cruz Market with downloadable apps.

Earlier this month, Borders unveiled its new Rewards loyalty program, bringing customers more choices, richer benefits and better savings. For complete information on Rewards or to sign up to become a Rewards member, visit www.Borders.com/Rewards

About "Powered by Kobo": Kobo, Inc.

"Powered by Kobo" is an eBook partner program from Kobo, a global eBook service backed by Indigo Books & Music, Borders Group, REDgroup Retail, and Cheung Kong Holdings. The "Powered by Kobo" program provides a flexible solution for hardware manufacturers and retailers worldwide to launch an eReader or eBook store. "Powered by Kobo" partners have access to Kobo's catalogue of more than two million titles and applications for smartphones, netbooks, laptops, tablets and dedicated eReaders. Kobo's vision is to deliver any book on any device and is a strong voice in the eBook industry supporting open standards for eBooks and eReaders. For more information, visit www.kobobooks.com.

About Borders Group, Inc.

Headquartered in Ann Arbor, Mich., through its subsidiaries, Borders Group, Inc. (NYSE: BGP) is a leading specialty retailer of books as well as other educational and entertainment items. The company employs approximately 19,500 throughout the U.S., primarily in its Borders® and Waldenbooks® stores. Online shopping is offered through borders.com. Find author interviews and vibrant discussions of the products we and our customers are passionate about online at facebook.com/borders, twitter.com/borders and youtube.com/bordersmedia. For more information about the company, visit borders.com/media.