Borderlands Legends lands on iPhone and iPad later this month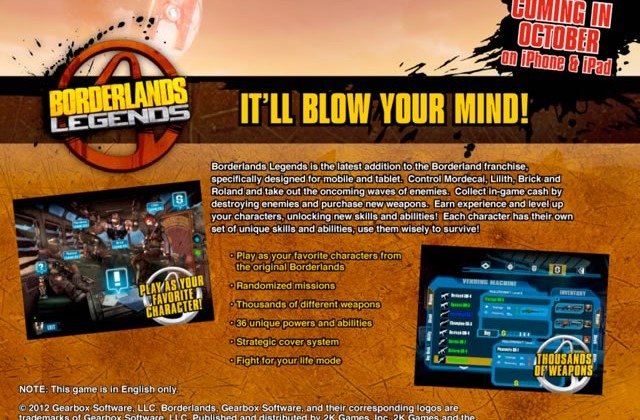 You may be busy taking on Handsome Jack and his Hyperion goons in Borderlands 2 at the moment, but a new ad in the game's digital strategy guide suggests that the Borderlands franchise will be getting a new mobile installment later on this month. Dubbed Borderlands Legends, gamers will take on the role of the original Borderlands characters – Brick, Roland, Mordecai, and Lillith – once more as they fend off wave after wave of enemies. Unfortunately, details on the game are still pretty slim, seeing as how Gearbox has yet to make an official announcement.
That's not to say we're completely clueless, however. According to the ad, which was discovered by Gearbox Forums member Ownzilla, Borderlands Legends will have players earning cash by killing enemies and completing waves. Sadly, it seems that the franchise's loot aspect won't be fully implemented, as players will use the cash they earn to buy new weapons. We've seen this plenty of times before, so those who have played similar free-to-play shooters in the past should have a pretty good grasp on the kind of game Borderlands Legends is by now.
In addition to earning money to buy new guns, Borderlands Legends players will be able to earn experience and level up, unlocking new skills along the way. It remains to be seen if this means the skill trees from the main games will be available in Borderlands Legends, but it sounds like at least something similar will be present in the game. The ad says that Borderlands Legends will be available on iPhone and iPad in October, and considering there's just over a week left before November arrives, Borderlands Legends should be launching pretty soon.
That's it as far as the available information goes, so now we just sit back and play the waiting game. If Gearbox is planning to stick with that October launch window, then we should be finding out more information soon. Keep it tuned here to SlashGear for more information.
[via IGN]