Borderlands Legends confirmed, out for iOS on October 31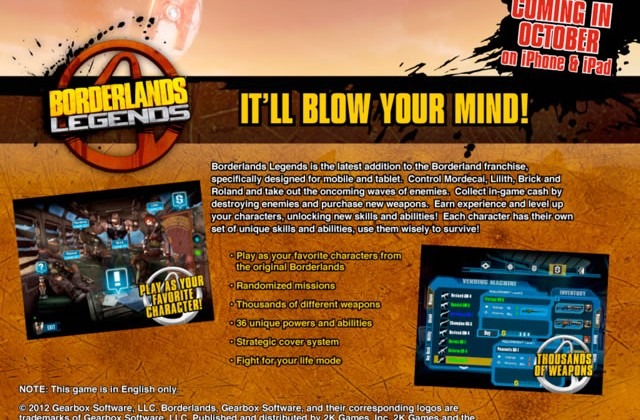 Yesterday, we heard a rumor that claimed Gearbox was getting ready to launch a new Borderlands mobile game. It didn't take long for the studio to confirm it, as today it announced that this new game – dubbed Borderlands Legends – will be available for iOS devices on Halloween. As you might expect from a mobile game, Borderlands Legends marks a pretty radical departure from the Borderlands titles we know and love.
Gearbox shared most of the first details about the game with Entertainment Weekly, saying that it will be a top-down shooter instead of an FPS. Gamers familiar with the core Borderlands series will be recognize with the enemies in the game, but in a very interesting spin, players won't just be controlling one of the characters at a time. Instead, they'll control all of them at once, leading Brick, Lilith, Mordecai, and Roland in their struggle against wave after wave of baddies in randomized missions.
Like we heard yesterday, Borderlands Legends will feature a level up system that's similar to the games in the main series, although don't expect things to be quite so fleshed out. Each character will have a total of three action skills and then six abilities in their skill tree, so your choices have been pared back pretty significantly. Again though, this is a mobile game, so we can't expect a true-to-form Borderlands experience.
Still, it sounds like Borderlands Legends should be a lot of fun for those who want to take Borderlands on the go with them. The game will be available on the iOS App Store on October 31, and it'll cost you $5 on iPhone and $7 on iPad. Is anyone thinking of checking this one out?