Borderlands 1 GOTY remaster arrives in April with UHD and HDR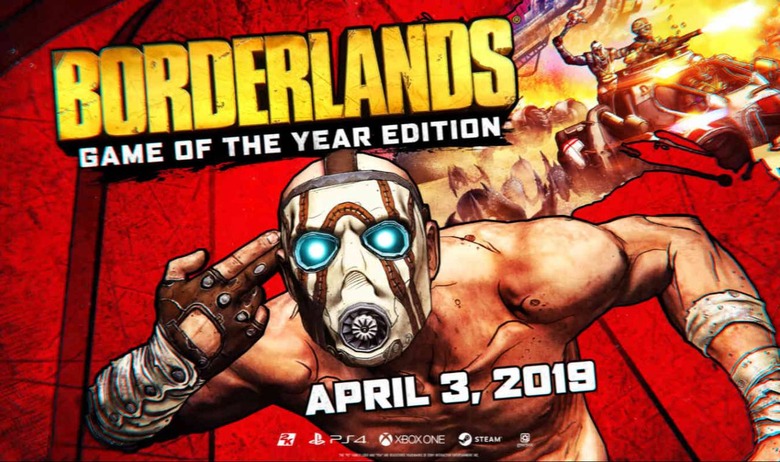 In addition to announcing the upcoming launch of Borderlands 3, Gearbox Software has revealed plans to launch a remastered version of the original Borderlands game. The new Borderlands: Game of the Year Edition will arrive in April with support for Ultra HD displays and, of course, latest-generation consoles, giving fans a chance to re-experience the popular title.
The original Borderlands game launched in 2009 as an open world action role-playing FPS title with an atypical aesthetic. The title quickly became a fan-favorite, earning the game its persisting nine out of 10 rating on Steam. The game spawned a number of additional Borderlands titles, including the newly announced Borderlands 3.
It's that same original Borderlands that will be arriving in the new Game of the Year Edition on April 3. The remaster will bring the game to the PlayStation 4, Xbox One, and PC with support for Ultra High Definition graphics and HDR. All character models, textures, and lighting have been upgraded for this release.
Players can expect access to all four DLC releases, including "The Zombie Island of Doctor Ned," "Mad Moxxi's Underdome Riot," "Claptrap's New Robot Revolution," and "The Secret Armory of General Knoxx." There will also be some small additions that improve the experience, including a new minimap like the one found in Borderlands 2.
Buyers of the remastered version can also expect new Vault Hunters customizations, a final boss battle that is harder to beat, and support for 4-player split-screen gameplay. The game will be available to purchase starting April 3; check out the trailer above to get a look at the new graphics.