Boosted Boards (2nd-gen) recalled over battery pack water vulnerability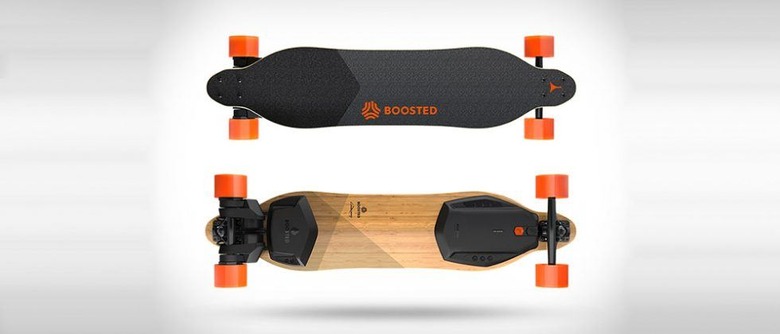 The electronic longboards called Boosted Boards are now into their second generation, and have proven popular with those who want something akin to a hoverboard, but faster and with a more traditional style. Unfortunately, the second generation version of the Boosted Board is the subject of a new recall being initiated "out of an abundance of caution." According to the company, a couple customers have experienced issues with their boards' battery packs smoking, something traced back to 'quality control issues.'
Per the company's recall announcement, Boosted was previously alerted by two customers about an issue in which the battery packs for their boards produced smoke. The company's investigation into the matter found that the smoke came from a short circuit in the battery packs' electronic components. That itself resulted from water getting into the packs, and the water was able to get in because of a pair of 'quality control issues.'
Now that the problem has been determined, Boosted says it has halted shipment of the product and also alerted the Consumer Product Safety Commission about the matter, as well as Health Canada. This voluntary recall affects only the second-generation standard range battery packs. If you have a second-generation board, Boosted says it'll replace your battery pack with the updated version for free — those updated battery packs are already being shipped out.
Any boards currently with Boosted HQ for serving will automatically be updated with the new battery pack, while everyone else need to send the online Battery Pack Replacement form. The shipment will go out once the company verifies the form you submit. As well, the company is giving owners a $200 credit for items purchased from its site as long as you keep the board beyond the 30-day return window.
Perhaps most importantly, Boosted says it has determined that the boards' IP rating isn't great enough to cover real-world usage scenarios, and therefore the second generation board will no longer be sold as water-resistant. The company now "strongly recommends" you avoid using the board in wet conditions or through water, which means you'll not be able to use the product in the rain or through puddles.
SOURCE: Boosted Boards