Boost Mobile unveils Motorola Debut handset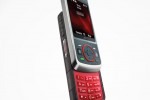 Boost Mobile is one of the better known providers of pre-paid wireless service in the country. The company offers full line of handsets that will appeal to many buyers looking for text centric and feature phones without a contract.
Boost Mobile and Motorola announced today than the Motorola Debut i856 is coming to the Boost network. The I856 is the first Motorola handset with a slider design and push to talk walkie-talkie service on the network.
Features of the handset include nationwide walkie-talkie capability, a slider design, a music player with audio jack, a 1.3MP camera with video capability and stereo Bluetooth. Other features of the device include GPS and wireless web connectivity and an optional removable 8GB microSD card for storage of music. A color LCD and speakerphone with voice dialing are also included. The Debut will sell for $169.99.