Boost Mobile 2009 device line-up leaks, confirms Motorola i465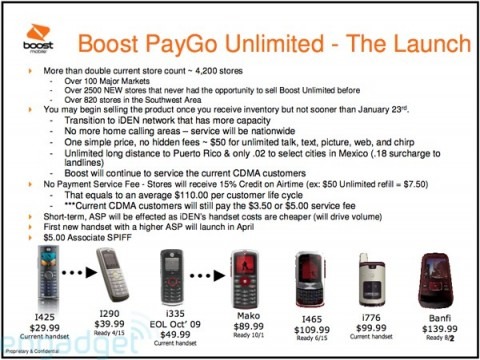 Details of Boost Mobile's upcoming 2009 handset lineup have leaked, confirming that the carrier will be offering the "distinctive" Motorola i465 QWERTY messaging-phone.  It's one of at least four new devices, including a candybar, a clamshell and a slider form-factor, with several of the handsets looking to be supplied by Motorola.
Obviously all of the devices will support push-to-talk on the iDEN network, and Boost's $50 unlimited subscription package - which offers inclusive talk, SMS, picture messaging, web access and PTT – will be available across the board.  Existing devices in Boost's current line-up will also see price reductions, such as the I290 which will fall to £39.99 on April 15th.
The new handsets include the Motorola i465, at $109.99 on June 15th; the Banfi, dropping August 2nd for $139.99; and the Mako, at $89.99, arriving October 1st.  No specification details, but don't expect anything too complex and you shouldn't end up disappointed.