Booq Cobra Courier XS iPad Messenger Bag Available Now for $145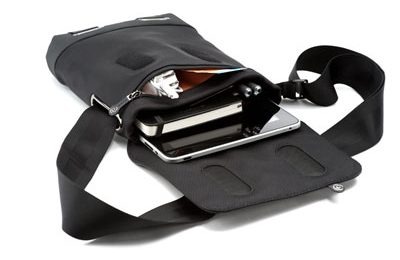 There are a ton of different accessories and bags out there to choose from, even if you're trying to find a way to carry your iPad around with you while you're out and about. But sometimes, there's one that stands out amongst the crowd. Booq Bags have just introduced their line-up of new Cobra Courier bags, created in varying sizes to make sure that your gadgets can be carried comfortably. The Cobra Courier XS is specifically meant for the iPad, but the company managed to make sure that there's plenty of space for other things you may need.
The body contains a nicely padded iPad compartment, and along the front you'll find an easily accessible pocket that's sealed by a zipper. Inside, next to the compartment, you'll find a main, centralized pocket that features slip pockets, where you can put your charger, or other things like your iPhone, wallet, or something else of that size. The bag is created from 1680 denier ballistic nylon, and also includes some of the best Nappa leather, making sure the construction of the bag is top-notch and eye catching.
Other features of the bag include having a repellant coating, and a durable water-resistant rubberized bottom that will help to protect your gadgets and belongings just in case water manages to hit that area. The strap is fully adjustable, so you'll be able to find the perfect fit, and there's even a detachable key ring, if you would need something like that. The Cobra Courier XS is available right now, and you can pick it up for $145. Or, you can wait until our official review to make your decision, which is coming soon. So, stay tuned.
[via Booq Bags]