Boomphones Re-Up are headphones and a portable speaker in one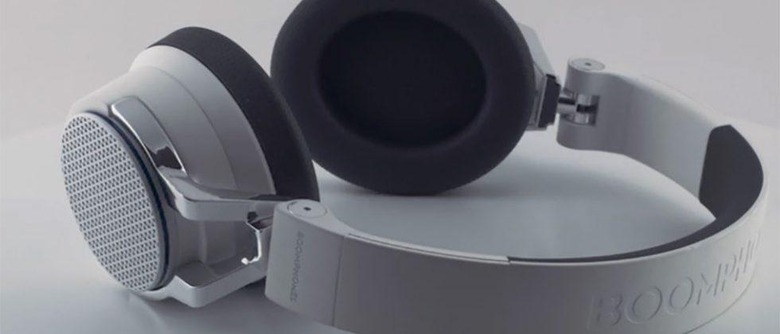 Typically if you want headphones for private listening and a portable speaker to share the music with a group, you need two devices. The new Boomphones Re-Up that have turned up on Kickstarter allow you to have both private and group listening with one device. Re-Up can be turned from headphones into a portable speaker at the press of a button.
Re-Up claims to be the only headphone that folds to become its own speaker stand. Re-Up also comes with an active speaker case that protects the headphones and enhances audio playback thanks to a pair of additional speakers built into the box. That active speaker case also has its own internal battery that allows you to charge headphones or your smartphone via the charge port on the case.
The speaker case appears to be rather large and a bit bulky. The headphones have an integrated microphone and can be used to answer calls while wearing Re-Up as headphones or when using it as a speakerphone. Each earcup has LED lights that glow for style and to let you know when the headphones are in speaker mode.
Frequency response is 20Hz to 20Khz for the internal speakers and the external speakers have a range of 150Hz to 20kHz. The battery lasts up to ten hours per charge. The battery in the case lasts up to ten hours as well. Boomphones Re-Up is on Kickstarter seeking $50,000 and has raised over $28,000 as of writing with 16 days to go. A pledge of $99 or more gets the Re-Up headphones alone. The headphones and the active speaker case will cost $150 or more with shipping in August 2017.
SOURCE: Kickstarter