Boom Technology XB-1 Supersonic Demonstrator subscale prototype debuts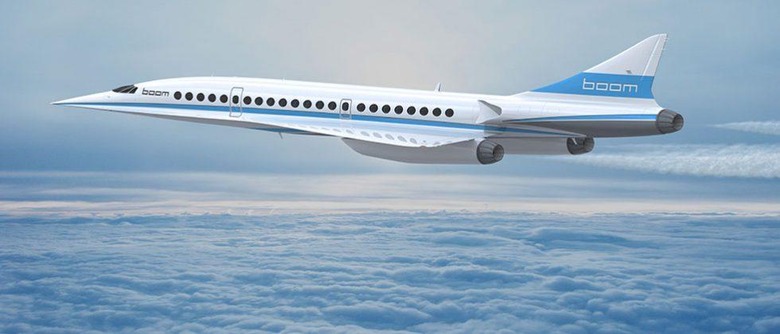 A company called Boom Technology has debuted a subscale prototype of what it thinks will be the future of commercial passenger aviation. The subscale prototype is of a supersonic passenger jet called the XB-1 and nicknamed "Baby Boom." The aircraft as unveiled this week at a VIP event for airline and aerospace executives and media. Boom says that the XB-1 is the world's fastest civil aircraft and will demonstrate key technologies for affordable supersonic travel.
"60 years after the dawn of the jet age, we're still flying at 1960s speeds," said Blake Scholl, chief executive officer and founder of Boom. "Concorde's designers didn't have the technology for affordable supersonic travel, but now we do. Today, we're proud to unveil our first aircraft as we look forward to first flight late next year."
The first flight for the aircraft is to be conducted east of Denver and will be a subsonic flight, this test is planned for late 2017. A supersonic flight will be conducted near Edwards Air force Base in California in partnership with Virgin Galactic's The Spaceship Company. The XB-1 is a 1/3-scale version of the production Boom airliner.
The XB-1 demonstrator will use GE engines, Honeywell avionics, and carbon fiber form Tencate. The XB-1 has a list of firsts to its name including being the first independently developed and privately funded supersonic jet. It will cruise at mach 2.2 making it 10% faster than the Concorde and 2.6 times faster than normal jets. The aircraft will cruise at up to 60,000 feet and will have one seat on each side of the aisle. The XB-1 has room for a pilot and an engineer or passenger. It has a 68' length dn 17' wingspan and max takeoff weight of 13,500 pounds.