Bookeen Cybook Odyssey eReader, coming soon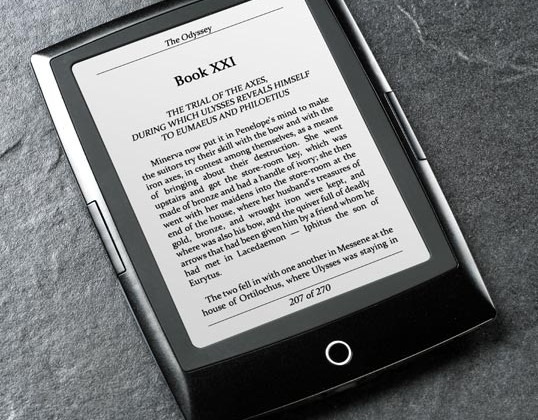 The fine folks at Bookeen have revealed that they'll be releasing an ebook reader with a 6-inch Pearl E-ink display and a lovely 800MHz Cortex A8 CPU for the masses. This device will be Bookeen's fourth ereader device, and it's expected that the display will be the same as what's proven to be ultra-successful on the Sony Reader, Amazon Kindle, Barnes & Noble Nook, and the Kobo, that being the Neonode zForce touchscreen. Welcome back to the pack, Bookeen!
The Pearl E-ink screen here should be a real winner as its already tried and true, and with this new form factor (seen above), Bookeen may well have a winner on their hands. In addition to having these things in its favor, there's a video out there showing off how Bookeen has been optimizing this tablet in regards to refresh rate on the "ink", and wow, it does look pretty darn neat if I do say so myself:
The video isn't the newest in the world, but it does show the possibilities in this new Bookeen ereader tablet. This video was filmed all the way back in May – can you imagine where they're at today?! We can't wait to hear more from Bookeen on the device. E-ink progression forever!
[via The Digital Reader]