Boogie Board Sync 9.7 hands-on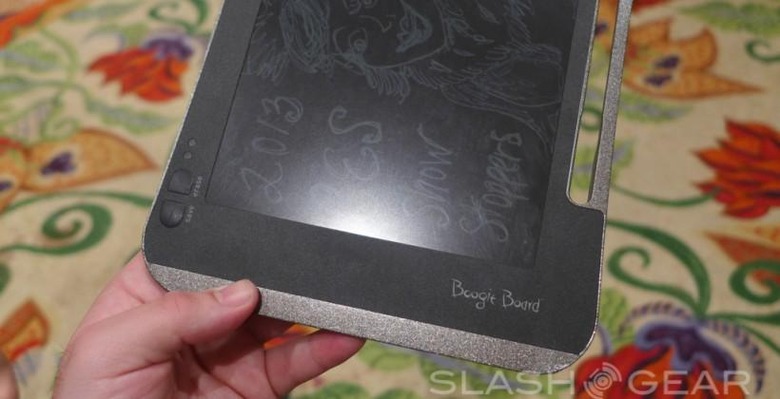 These days, it seems that the art of taking down handwritten notes is dying. Why use a pen and paper when you've got a tablet or ultrabook in your bag that you can use to type things up instead? There is something to be said for handwritten notes, however – sometimes it's much faster to write down something by hand, and during big shows like CES, taking along a pen and some paper ultimately cuts down on the amount of stuff you're taking onto the show floor.
Of course, the environmentally-minded among us might be concerned with the amount of paper we use to take down these notes, but thankfully the folks at Improv Electronics have found the answer to that wasteful issue. Say hello to the Boogie Board Sync LCD eWriter, which is outfitted with a 9.7-inch pressure-sensitive LCD screen that lets you jot down notes on the fly and then share them in any number of ways. This isn't the first Boogie Board eWriter we've seen, but it certainly is the largest of the bunch.
The Boogie Board Sync comes equipped with a micro SD slot, so if you'd like to stash your notes on a card and move them to your other devices later, you can certainly do that. There's also a micro USB port for wired transfer, but if you're a fan of going wireless, this baby also comes with support for
. Using that Bluetooth functionality, you can send your finished note to any other Bluetooth-supported device, whether that's a computer, smartphone, or tablet. You can also sync your Boogie Board with a second screen using Bluetooth, meaning that what you write down on the eWriter shows up on your second screen (perfect for presentations and the like). Fancy saving your note and uploading it to
to refer back to later? You can do that too.
The models we saw during
certainly look nice, but at the moment, they're only in the prototype stage. Though they do feel good in the hand at the present moment, we're expecting a few things to change as we move toward the final product, which is scheduled to be released in time for 2013's holiday season. Hopefully we'll get to spend a bit more time with the Boogie Board Sync soon, but for now, have a look at our
for much more from the show.