Boogie Board Released new Sizes and Accessories

The Boogie Board product line has been updated to include the new sizes of 10.5 and 8.5 inch writing tablets, along with some new accessories. For those not familiar with the Boogie Board line-up, it is part of Improv Electronics' Push Green efforts. The slate is not competing with new tablets like the XOOM or the Galaxy Tab. In fact, its biggest competitor is probably the white-board and eraser, or possibly even the post-it note.
The Boogie Board operates using an LCD screen that is not powered. When the user applies pressure to the surface, the writing appears. The erasing is accomplished by pushing the erase button sending a surge of power through the screen. The batteries are supposed to contain enough charge for 50,000 erase cycles. If the board is erased about 200 times a day, that is about 6 years.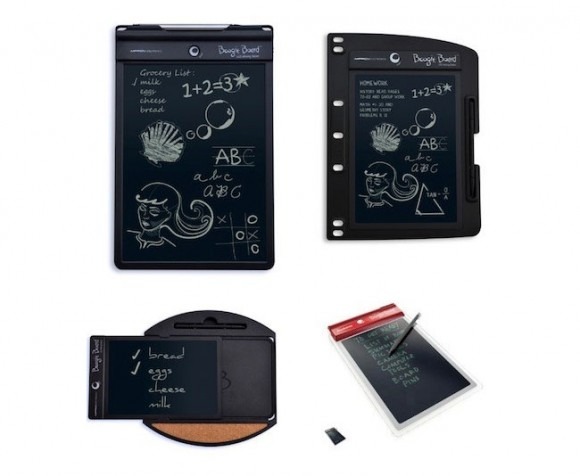 The new 10.5 inch Boogie Board is available for $59.95. Some of the new features in the 10.5 edition include the ability to lock the erase button to prevent accidental "data loss." There are also the new accessories like the Message Center to make it easier to mount the board on a fridge or wall. The accessories are still on pre-order, but the boards are shipping now.
[via Improv Electronics]