Bolt mobile browser hits 20M installs globally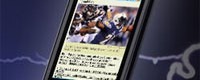 The Bolt mobile browser has hit a milestone with the announcement that the browser has now been installed by 20 million mobile users around the world. The browser is in use in more than 200 countries around the world and launched at MWC in February 2009. The developers behind the browser claim that the reason it is so popular is that it offers impressive features.
The features of the browser include video streaming, tight social networking integration, and lots of other features that make the offer PC style browsing on mobiles. The company claims that users of the Bolt browser have now streamed over 130 million minutes of video and viewed nearly 2.3 billion web pages in a bit over a year of availability.
Bolt will run on any mobile device that runs Java ME apps. That means that the browser will work on about 75% of the 4 billion devices on the market today. A Lite version of the browser is also available for phones that lack the power and performance needed for the full version of Bolt. Bolt 2.5 and the Lite version are available to download now.