Boeing's self-sanitizing lavatory makes germs 'literally explode'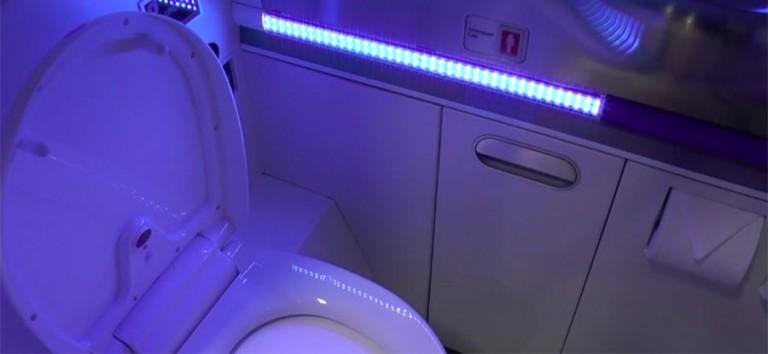 Boeing has a new prototype aircraft lavatory that, among other things, uses UV light to kill germs after each use. Many people travel on any given commercial flight and they bring their germs with them. The lavatory is arguably the epicenter of these germs and, given their cramped nature, it can be hard to avoid touching potentially unsanitary surfaces. Boeing has addressed these issues with its new prototype bathroom, enabling it to nuke germs instantly.
The germ-zapping ability comes from integrated ultraviolet lights that click on instantly as soon as someone exits the bathroom. When they turn on, the UV light kills 99.99-percent of germs on the bathroom's surfaces, minimizing one's risk of contracting an illness while on the airplane. The process is very effective, with engineer Jamie Childress explaining, "The UV light destroys all known microbes by literally making them explode. It matches the resonant frequency of the molecular bonds on the outside of the microbes." The light is not harmful to humans, however.
The prototype lavatory also integrates features that reduce how many times someone has to touch a surface. The use of sensors and foot pedals cause things like soap to dispense and trash lids to open in a hands-free manner, further decreasing germ transmission. As for the lights, they're arranged in such a way that all pertinent surfaces are exposed: the floor, counters, toilet seat, and such. The toilet seat will automatically be closed during this sanitization process to ensure all surface areas are exposed.
Said Principal investigator Teresa King:
We believe that using the far UV is the key to making those surfaces cleaner. We position the lights throughout the lavatory so that it floods the touch surfaces like the toilet seat, sink, countertops, etc. with the UV light. This sanitizing even eliminates odors from bacteria so that passengers can have a more pleasant experience.
Boeing is looking into other sanitization methods for its planes, including a vent that serves as a vacuum on the floor and a door latch that can be operated hands-free. During its recent statement, Boeing teased that it is also exploring some other concepts that will "make the overall cabin cleaner."