Boeing unveils Dreamliner 787 with Android-based entertainment systems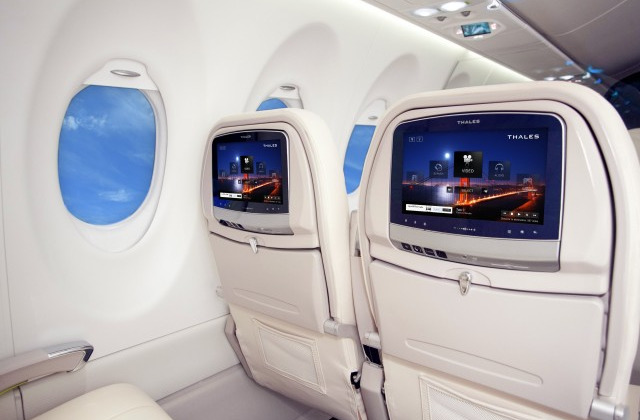 Boeing is making better use of today's mobile technology by integrating it into its aircraft, starting with rolling it all into the new Boeing 787 Dreamliner. A Qatar Airways Boeing was unveiled at the Farnborough Airshow in the UK this week showing off its new Android-based entertainment system. Over 850 planes will be equipped with two types of in-flight entertainment and connectivity (IFEC) solutions–the Thales TopSeries Avant and the Panasonic eX3.
The Thales TopSeries Avant IFECs had been integrated with the Qatar Airways 787 Dreamliner, featuring two classes, economy and business. They'll have 7-inch and 10-inch touchscreen IFECs with hardware stored in the seat-back unit. A STMicro dual-core ARM processor, 1GB of RAM and a 256GB SSD also come with each IFEC.
Android handsets will be equipped with the Thales TopSeries Avant IFEC, presumably for running applications not built for the large screen will be. Although not specified yet, it's expected that the Android version used on the system will be either Android 2.3 or Android 3.0.
[via ExtremeTech]