B&N NOOK only bright spot in drooping earnings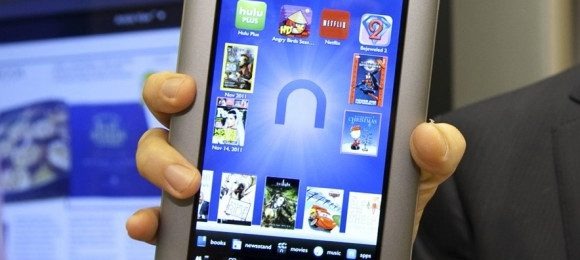 Barnes & Noble's cheaper NOOK Tablet can't come too soon: the book retailer's overall sales increased in the most recent financial quarter, but that wasn't enough to avoid a drop in net income. B&N's NOOK business – including digital ebook sales, other downloads, and accessories – rose 38-percent in Q3, pushing sales to $542m, with hardware growth up 64-percent year-on-year. Nonetheless, pre-deduction earnings dipped year-on-year, from $170 million to $150 million.
The retailer is pegging a significant portion of its hopes for the future on NOOK downloads and hardware demand. Digital content sales rose 85-percent year-on-year, including ebooks, digital newsstand content, and downloads from the NOOK Apps store. The latter was likely buoyed somewhat by B&N's decision to block app sideloading in a December firmware update.
Outside of digital, things are looking stale. Retail pre-deduction earnings rose from $178m to $207m but college earnings dropped from $43m to $37m, as more students turn to textbook rentals. Net income is flat year-on year.
Whether B&N is still considering hewing off the NOOK business is unclear. The company says little about its future plans for that, though it does predict $1.5bn in NOOK business sales for its full financial year.