BMW's new MINI Citysurfer Concept isn't a car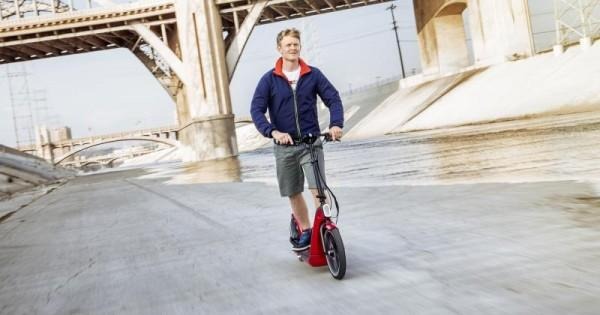 It's that time of year when car makers not only show their wares but also boast their ideas in concept cars. But BMW is doing something a tad different. It is unveiling the MINI Citysurfer Concept, which isn't a car and not even a sports bike, This is an electric drive powered kick scooter. It probably won't win any races (unless you race with other MINI Citysurfer Concepts), but it will get you from A to B with that "spontaneous riding fun" that BMW advertises for its MINI line.
That's not to say that this scooter is not noteworthy. Its electric motor can drive it up to speeds of 25 km/h or 15 mph. That said, the electric drive won't kick in until a certain minimum speed is reached using the rider's own kicking motion. The motor is powered by a lithium-ion battery that can be charged via a household socket or a car's 12-volt supply using a supplementary cable.
The MINI Citysurfer Concept is compact and lightweight, weighing only 18 kg or 40 lbs. It can be conveniently be folded and then stowed away in the luggage compartment of, say, a BMW MINI 3, or even loaded in buses or trains. The small footprint makes it ideal for keeping it hidden while its single-track design keeps it from taking up too much traffic space.
So where is BMW taking this scooter? Anywhere, actually. The portability, agility, and emission-free nature of the MINI Citysurfer Concept makes it ideal for many uses cases where only a small amount of distance needs to be covered but where a full blown automobile would be overkill. BMW bills it as the ideal "last mile" transportation, like taking you from parking space to your actual destination and back. Of course, the car maker is also advertising this simply as the "perfect companion" for a full car, hopefully a BMW too.
SOURCE: BMW