BMW's autonomous R 1200 GS motorcycle is a safety equipment testbed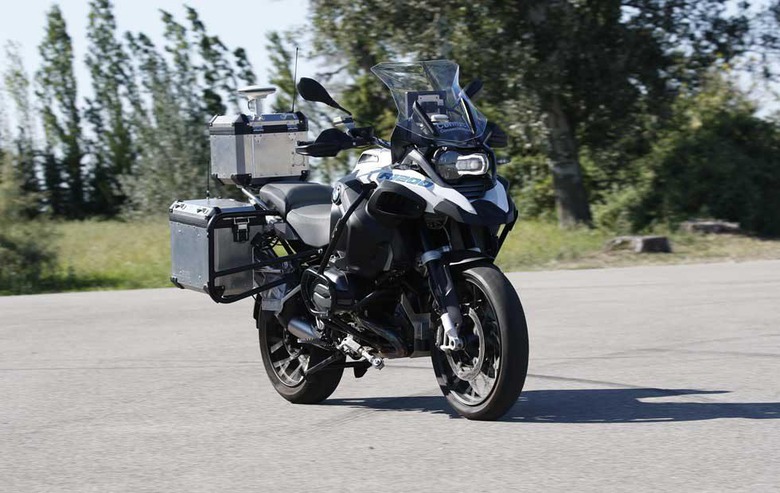 BMW Motorrad has unveiled an autonomous motorcycle that is cooler than most of the autonomous cars that are out there. The bike itself is a BMW Motorrad R 1200 GS adventure bike. These bikes are normally festooned with panniers for holding gear and clothing when you see them cruising the roads. BMW's autonomous bike packs all sorts of electronics inside those cases.
The autonomous technology allows the motorcycle to take off from a dead stop, negotiate turns and curves, and then stop again all without any human assistance. As odd as it is to see an autonomous car cruising with no driver it's stranger still to see a motorcycle cruising with no one at the controls. BMW Motorrad is specific in that it's not trying to develop a completely independent motorcycle.
What BMW is doing is using the platform to develop future systems and functions that can make motorcycling safer, more comfortable, and increase riding pleasure. The tech in the bike is being used to learn how to improve driving dynamics to detect dangerous situations earlier and to support the rider in taking appropriate measures to avoid harm.
The tech can also support the rider while turning at intersections or when sudden emergency braking is needed. The autonomous tech isn't all that BMW Motorrad has to show off, it's also showing off new headlight designs, cornering lights, and laser headlights for bikes.
The firm also has a motorcycle frame that was made using only 3D printing technology including the rear swing arm. The 3D printing process used in the frame uses carbon to create lightweight but high strength components including wheels.
SOURCE: BMW