In a world of autonomous vehicles, what happens to the driver who enjoys, well, driving? The answer, BMW says, may be something like this: the new BMW Vision M NEXT concept. The latest in the automaker's NEXT series of near-future concept cars, it's a blend of electrification, thoughtful assistance tech, and distinctive style.
BMW's self-imposed challenge is a straightforward one. The future, we're told, will see mobility transition from individual drivers in charge of their own vehicles, to autonomous transportation that liberates people to do other activities as they're being moved around. Problem is, where do keen drivers fit into that scenario?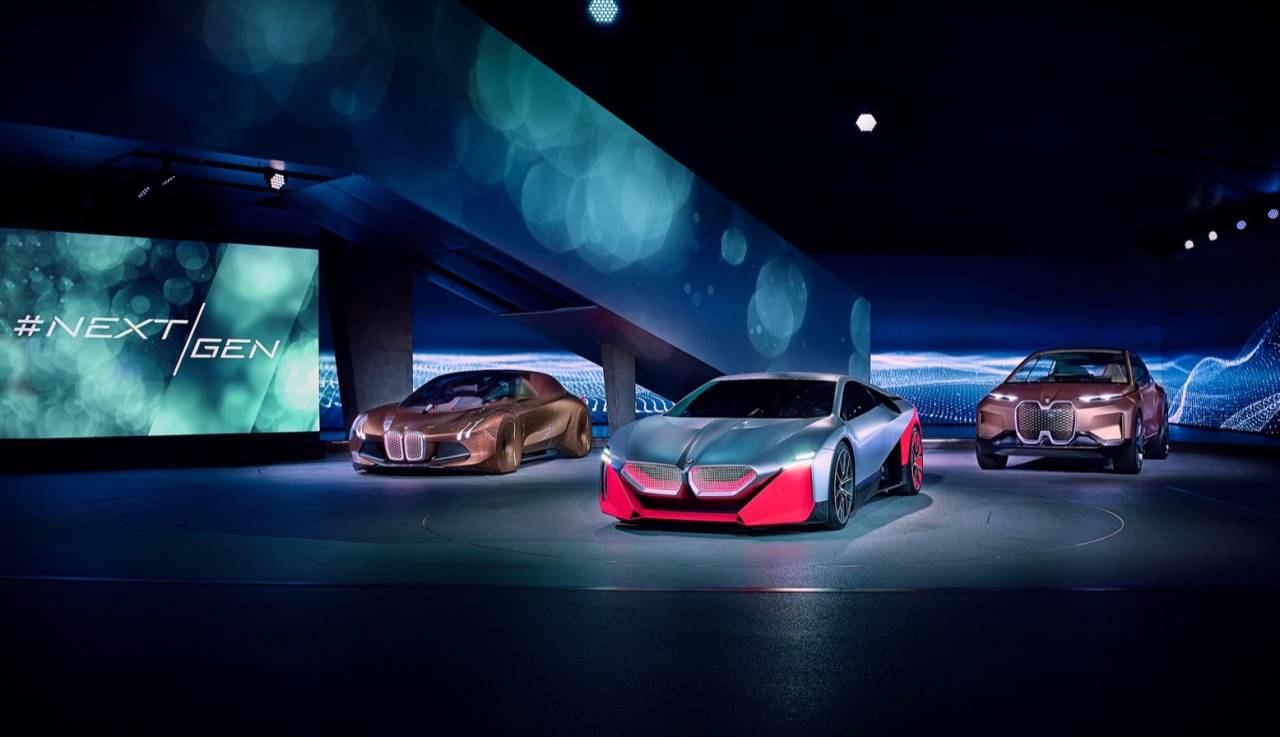 The automaker explored the potential future of self-driving vehicles with the BMW Vision iNEXT late last year, and now it's the turn of its polar opposite. The Vision M NEXT is a gas-electric hybrid, riffing off the BMW i8 both in style and drivetrain architecture. According to the automaker, it's the "BOOST" counterpart to the Vision iNEXT's "EASE" attitude.
Part electric, part gas
Somewhat unusually for a modern concept car, the Vision M NEXT doesn't eschew internal combustion altogether. Instead, it's a hybrid, with a choice of different drive modes. You can have electric all-wheel drive, for example, or rear-wheel drive only. A four-cylinder gas engine can optionally kick in to drive the rear wheels.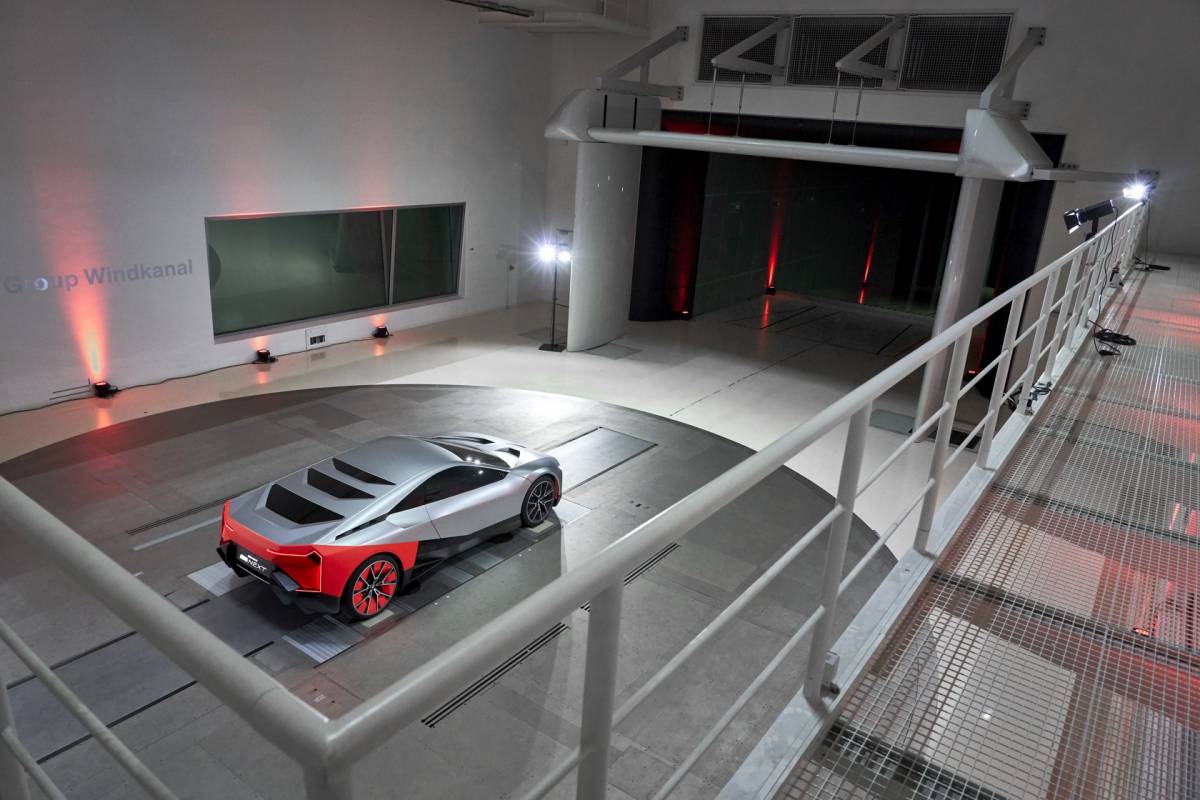 BMW says the total system power is 600 horsepower, good for 0-62 mph in 3.0 seconds and a top speed of 186 mph. A BOOST+ mode throws in extra horsepower for a brief period. Total electric range would be 62 miles, the automaker estimates.
According to BMW, the driver wouldn't be left to their own devices figuring out the best mode for the conditions. The system would be able to suggest when it would be most beneficial to trigger BOOST+ mode, for example.
BMW DNA in a new design
Concept cars have to be eye-catching, and sure enough the Vision M NEXT doesn't stint on style. At the front, BMW's kidney grille gets bold triangular air intakes, finished in Thrilling Orange, and a blade-shaped lower intake. There's a focus on the use of color, with gradients in the inner grille adding to a sense of depth.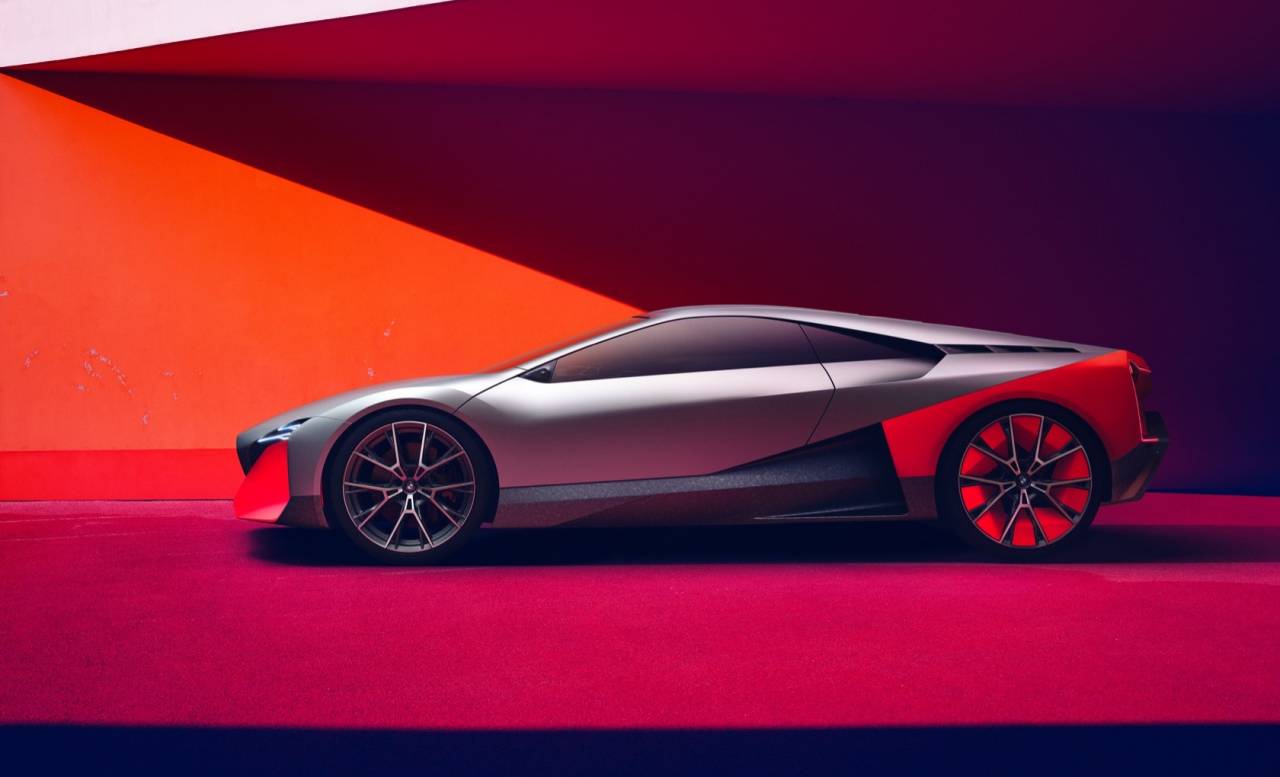 The grille itself is actually blanked off, with a laser-etched and illuminated transparent layer. Positioned above are the Laser Wire headlamps, using glass fibers coated with phosphorus for illumination. They allow for even more slim and crisp lighting.
From the side, there's a clear wedge shape, with a combination of black recycled carbon fiber skirts and diagonal orange contrast splashes. A gill-like opening narrows back from the windows to the tail, visually lengthening the car, while the so-called Air Flow opens just ahead of the rear wheels and helps with aerodynamics.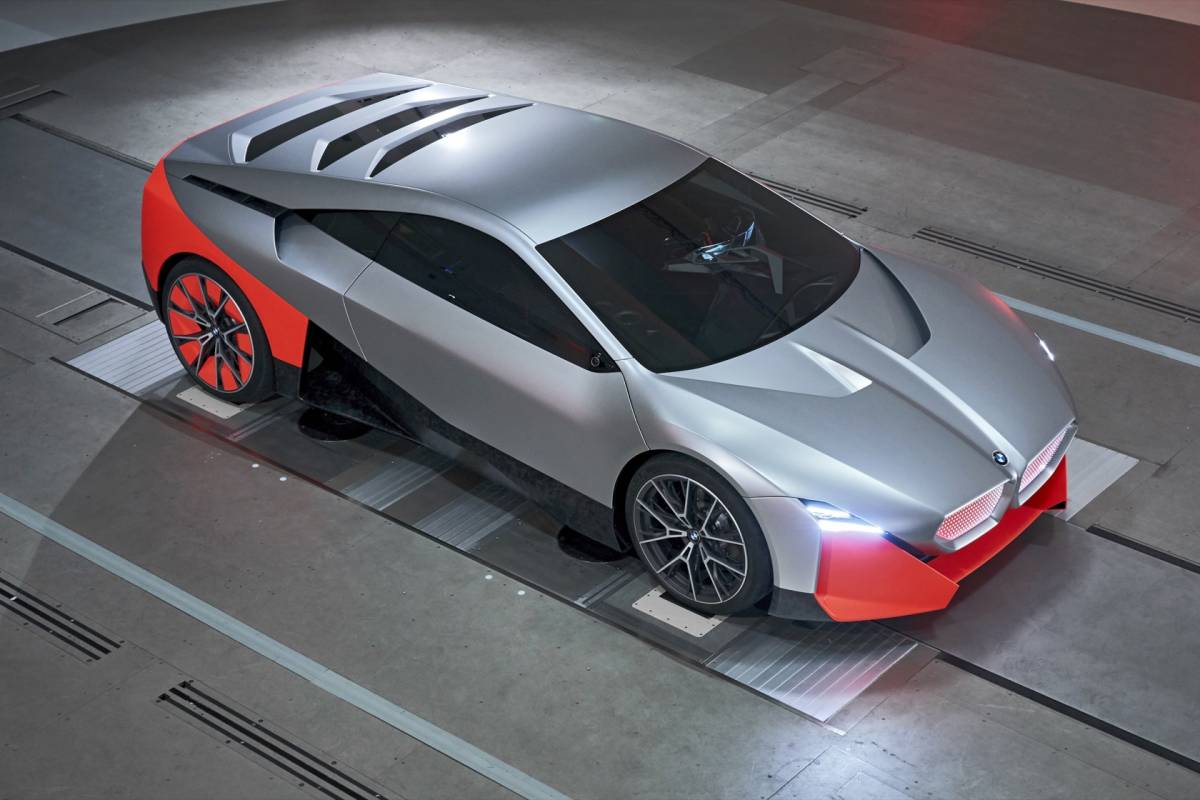 Indeed, aero has been a key point of attention for BMW's designers. Gaps carefully added to the multi-spoke wheels, for example – 21-inches up front, and 22-inches at the rear – help cut drag and assist with cooling of the brake disks. At the rear, more orange and carbon fiber is combined with glass three-piece louvres.
BMW's Laser Wire technology makes another appearance for the taillamps, with glass lenses that extend out into the hips of the car. Inside each, there's a wafer-thin glass fiber that BMW's designers have used to create "an abstract ECG trace of a heartbeat." The classic BMW Turbo and BMW M1 roundels have been rebooted as floating 2D circles in the light clusters themselves.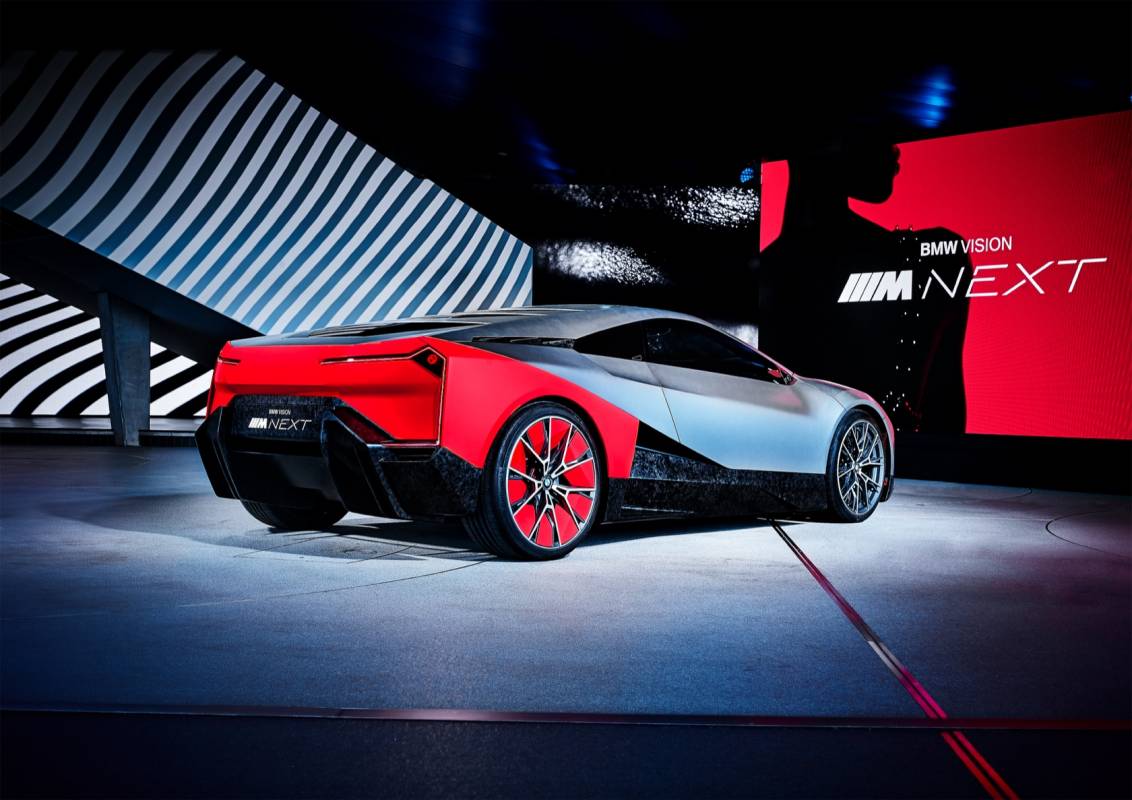 Inside, technology meets the focused driver
Walk up to the BMW Vision M NEXT, and facial recognition unlocks the car. A touch-sensor on the gullwing doors causes them to flourish open, and exposes a fairly minimalist cabin. Extraneous detail – like air vents – have been hidden away, while the seat shells are padded with memory foam and have distinctive "floating" headrests.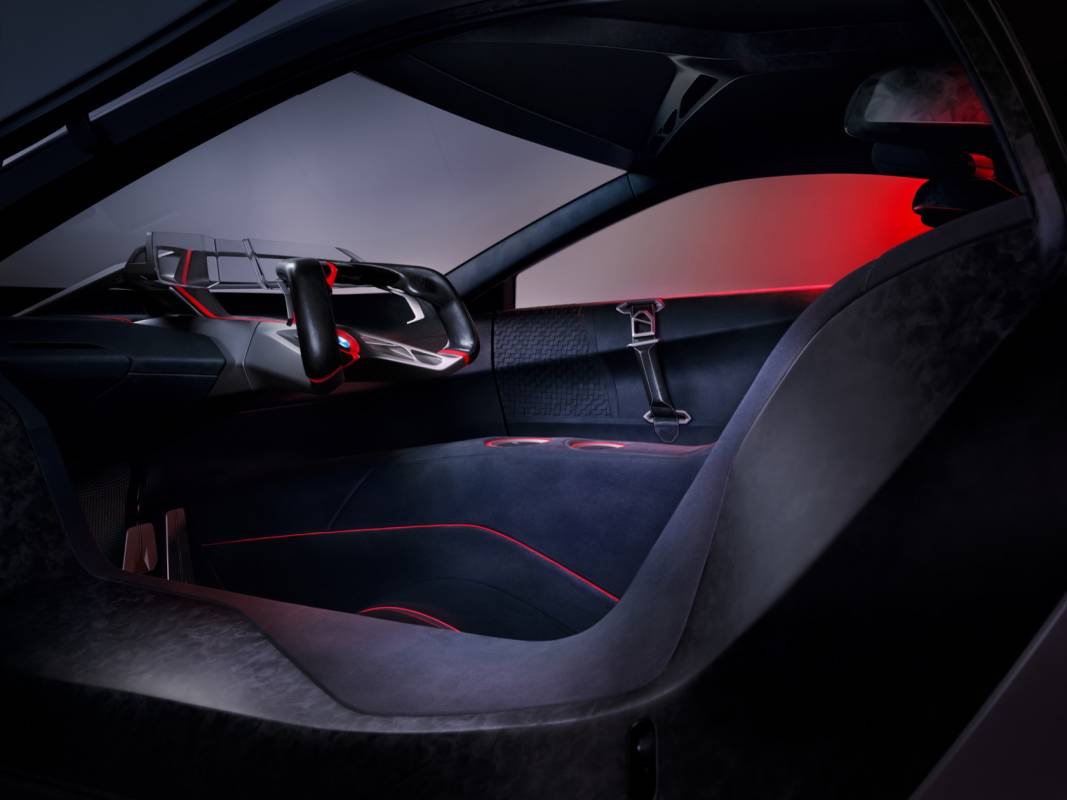 Rather than leather, which features only minimally, BMW has used predominantly Midnight Blue microfiber, with Thrilling Orange contrasts, anodized titanium, and painted surfaces. Accent lines emphasize the controls and the overall shape of the cabin. Door pockets and the center console storage have been disguised, while there's a gyroscopic cupholder that BMW says is better at dealing with the forces that come with in aggressive driving.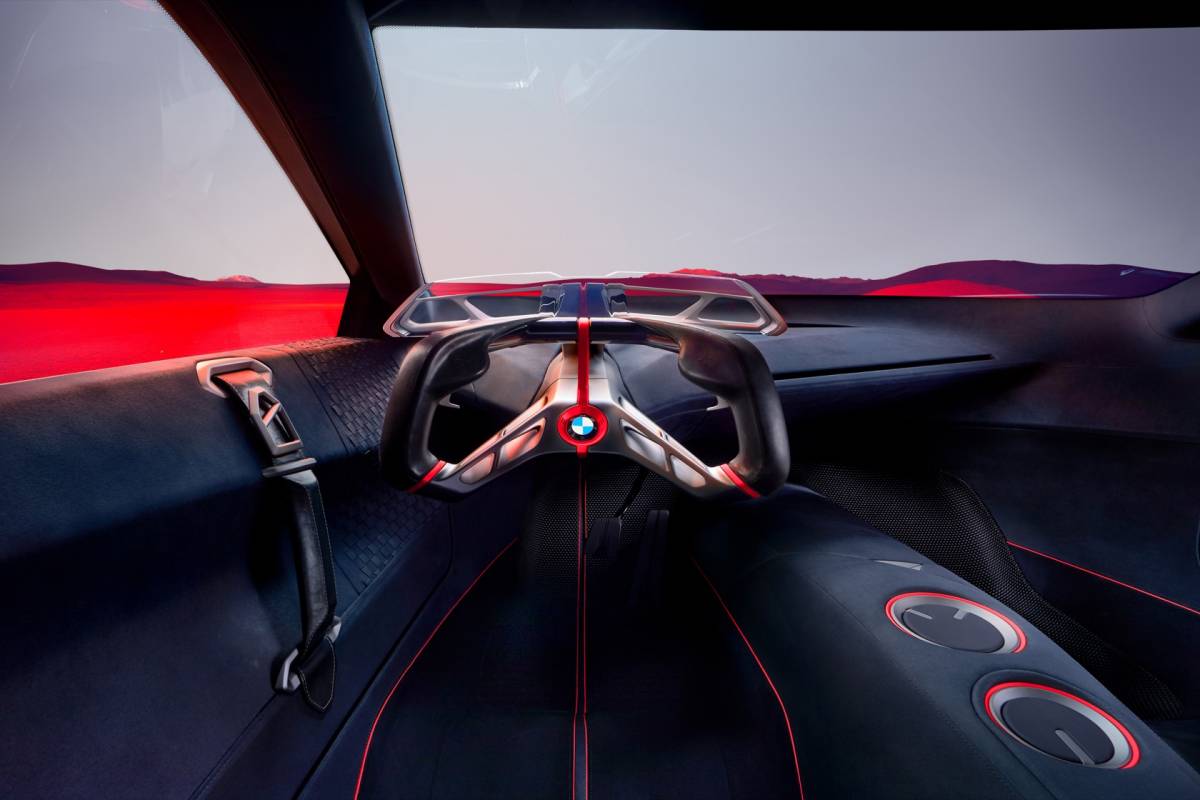 Controls are condensed into something BMW is calling the BOOST Pod. The steering wheel has two small displays, and sits ahead of a curved glass display which stretches around the wheel like a digital visor. Finally, there's an augmented reality windshield. Five clusters on the curved glass display are assigned to things like speed, battery levels, BOOST+ mode availability, and even the driver's heart rate.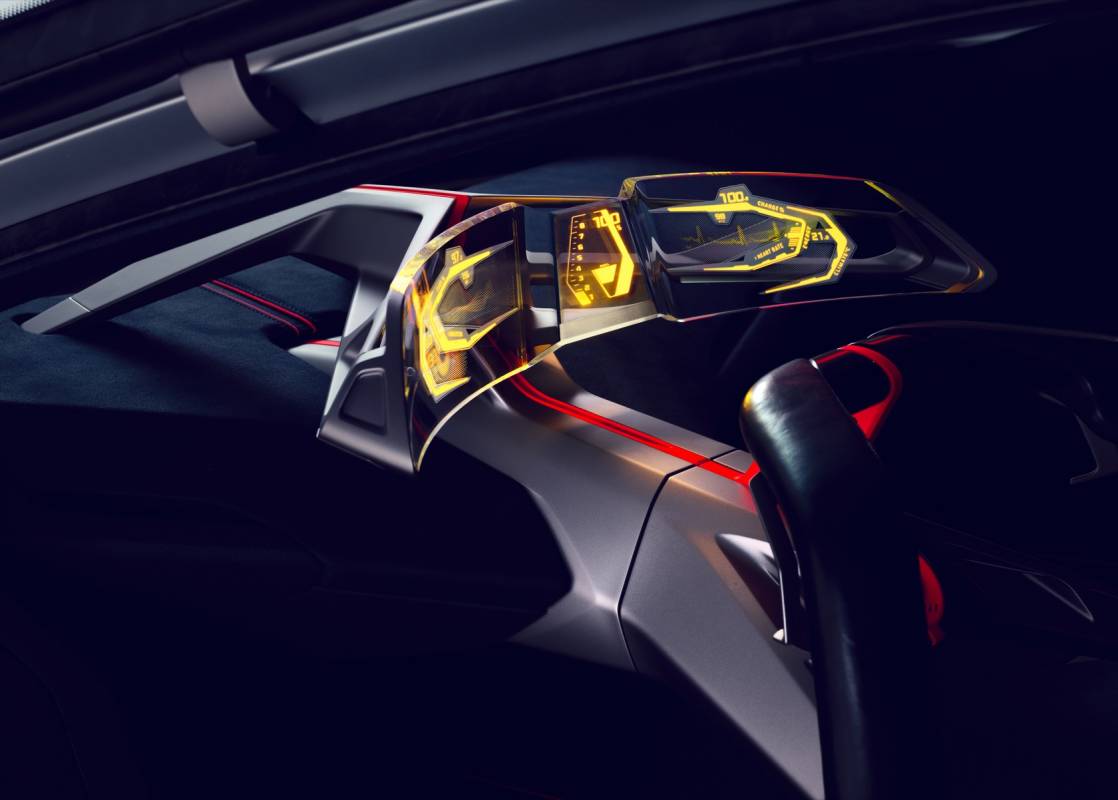 While it's not unusual for cars to have different dashboard layouts depending on drive mode, the Vision M NEXT distinguishes itself by adjusting what's visible according to road speed. As the car goes faster, the information presented is pared back, minimizing the potential for distractions. Driving-related data shifts further into the line of sight – a benefit of the AR windshield – to make it easier and quicker to see.
Beyond the confines of the car, though, there's the Intelligent Personal Assistant. That can be used to book services like valet parking and charging, so that they're waiting at the car's destination.
A concept, and a preview
BMW isn't making any commitments about the Vision M NEXT. It's unlikely to show up in dealerships any time soon, though the clear connections with models like the BMW i8 could be hints of future design directions. The PHEV hybrid drivetrain, meanwhile, seems eminently practical, and we could easily see it powering a more potent version of the automaker's current hybrid sports car.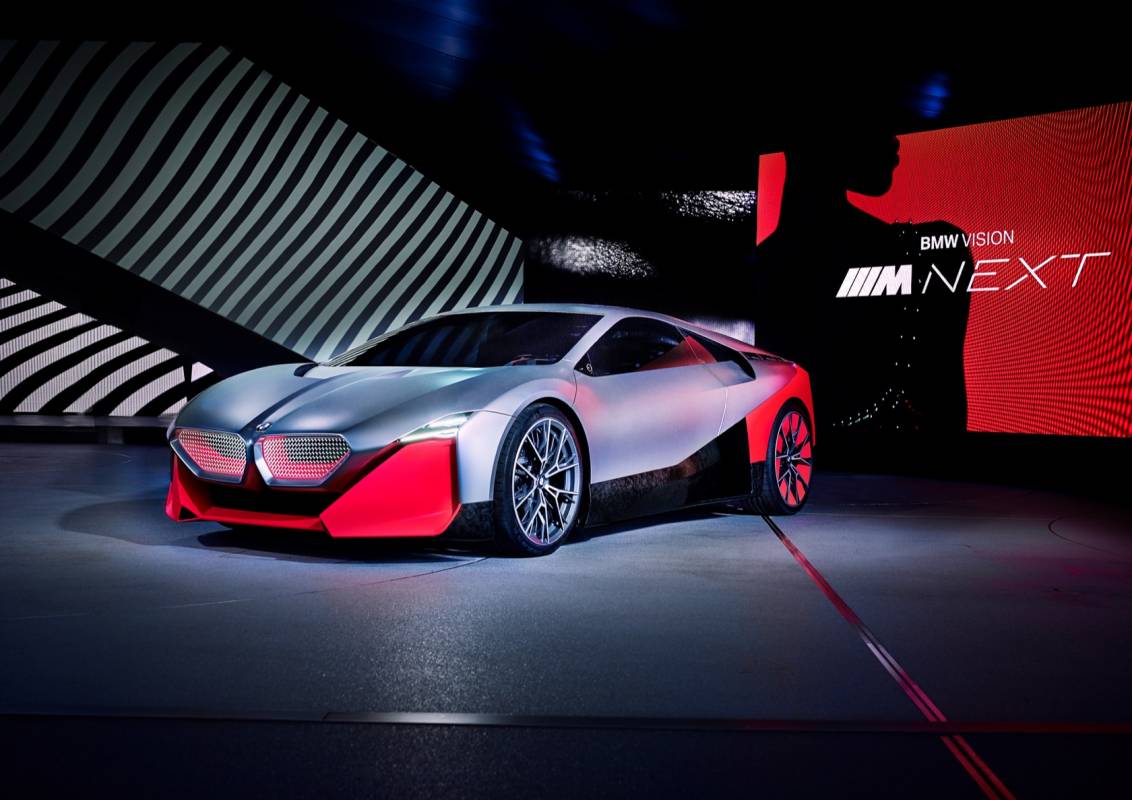 What's really important, though, is the ethos of the BMW Vision M NEXT, not the car itself. In an autonomous-dominated future, and one where electrification holds sway, it's easy to assume that driving enthusiasts will be left out in the cold. That's a possibility the Vision M NEXT looks keen to counter, and while a production version seems far fetched, keen motorists should probably take heart that BMW isn't quite ready to give up on them yet.