BMW Vision E3 Way concept imagines emissions-free roads for e-bikes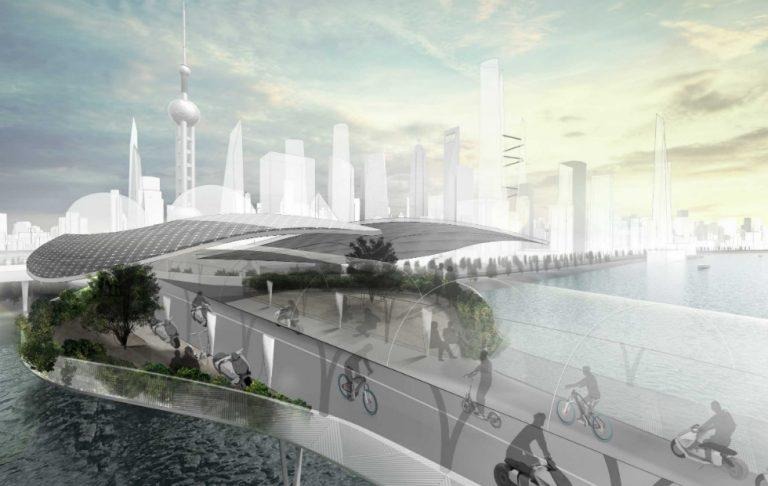 BMW has taken the wraps off a new concept that imagines transportation for urban cities of the future. Called the BMW Vision E³ Way, this concept presents an elevated road system designed for electric two-wheel vehicles (e-bikes, essentially) that could be used by city-dwellers of the future to efficiently travel within the urban environment. The concept was developed by BMW's Technology Office located in Shanghai, China.
Two-wheel electric vehicles, e-bikes, come in many forms, including everything from bicycles with electric motor assists to EV scooters and electric motorcycles. All are popular in big cities where parking is expensive and roads are crowded, but few cities are designed in such a way that traveling by e-bike is convenient, and in fact it can be quite dangerous in some places to operate these vehicles on the same roads as traditional cars.
Thus enters BMW's Vision E³ Way concept, an idea that allows for personal transportation (that is, one that doesn't depend on mass transportation like buses and trains), but that eliminates the noise, congestion, and pollution associated with the majority of existing personal vehicles. BMW explains that the E³ in its concept name stands for "elevated, electric, and efficient," the three big properties associated with its new concept.
Elevated, in this case, is literal. BMW says its concept positions the E³ Way above existing traditional roads, allowing for expanded traffic capacity while also giving the electric two-wheel vehicles their own place to operate. To increase its appeal to big cities, the concept was designed to be economical and modular, keeping costs and construction difficulty low. Assuming the elevated roadway is appropriately placed, it will connect these commuters with a city's major traffic hubs at distances up to about 9 miles / 15km.
Such a road system could also provide a means of transportation for individuals who don't have access to traditional cars, whether due to cost or different reasons. It is suggested that cities that implement this concept could offer EV rentals at destinations along the modular roads, establishing a bike-sharing scheme not dissimilar from the ones in some big cities that offer regular (non-EV) bicycles.
SOURCE: BMW Group